Sketch is one of the most used tools for designing Web and UI. While it's been loaded with so many features, there are people who are working to build custom plugins for it to make it more powerful. Here is the list of Best Sketch Plugins for UI/UX designers.
Craft is a multi-functional platform designed by InvisionApp which can be used for different purposes. It will help you to add images and prototypes to your design. Besides, you don't need to worry about the tedious task of copy and paste. Instead, you duplicate your design elements making the design more uniform just by a click. You can also pull content from real websites, public API's or your own files. You can connect your design to a cloud database and collaborate your work so that any single change will be reflected in each of the teammate's design too. Moreover, Craft also provides a feature to sync styles including fonts, text styles, and individual elements.
Top Features
Dynamic: Powerful search engine makes it easy to the user for fast access.
Inclusive: Be a single user project or a team project, Craft is for one and all.
Native and Interactive: User can build the prototype for the design right inside the working environment making it more interactive.
Reliable: It keeps all the data, styles in sync where a change to one can reflect in all the related components.
Relevant: Relevant data can be added to your design from files or websites of users' choice.
Download: https://www.invisionapp.com/craft#download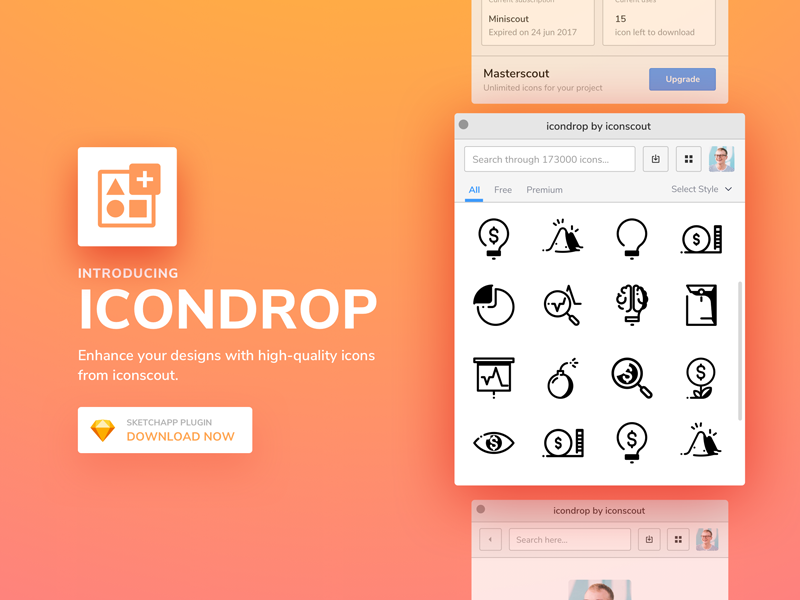 Iconscout has a new sketch plugin for the icon lovers to enhance their sketch. Stop by and find the latest icons for your Sketch, Photoshop, and Illustrator at 'Icondrop'. Icondrop provides the users with instant access to thousands of unique and innovative icons. It has also a search filter which helps the user in finding the icon instantly making it more user-friendly. The user has the flexibility to choose the shape of the icon they want. At the same time, a user can access the download history and scouts right inside their design environment.

Top Features
Instant Access: User can get instant access to millions of icons at a single click.
User-friendly: Search filters that enhance the speed makes it easy for the user to search the icon they want.
Accessible: User can access download history and Scouts right inside the design environment.
Seamless integration: Integrate your designs into a particular shape you want just by selecting the icon.
Download Link: https://iconscout.com/icondrop
If you plan to design an application that needs interaction with maps, it will be difficult for you to start the task from the scratch. This plugin will resolve your difficulties and make the task of associating the location with maps much simpler than you can imagine. You just need to write an address or place, choose a zoom level and the chosen shape will be filled with an image from Google Maps. Now, it is powered by Google Maps and Mapbox.
Top Features
Supported by Google Maps and Mapbox.
Build to support more map services in future.
Bugfixes
New Icon
New documentation
Download Link: https://github.com/eddiesigner/sketch-map-generator
Rename Plugin helps the user to keep the layers in a sketch organized.You can rename your layers sequentially in an ascending or descending manner, convert the selected layer's name to uppercase, lowercase or tile case and rename the layer with the height and width of your choice. So, 'Rename it' takes care of all the organization in your sketch giving you the freedom to organize your data as and when needed.
Top Features:
Helps to organize data in an increasing or decreasing order.
Multiple layers can be renamed simultaneously.
Layers can be customized according to the width and height as the user wants.
Download Link: https://github.com/rodi01/RenameIt
You may want to design an application that may need a lot of human faces, avatars or random names for those faces. So, instead of collecting huge data and making a mess of the system, TinyFaces will help you out by providing you a large variety of human faces and random names. It supports females and males for now and can be used to denote groups and symbols.
Top Features:
Fills text layers with random names
Fills shapes with random avatar stock photos
Supports groups
Supports symbols
Choose between high quality or low-quality images
Filter to only male or female
Download Link: https://github.com/maximedegreve/TinyFaces-Sketch-Plugin
You want to work with Adobe After Effect and still stuck at 'How should I use my sketch in Adobe After Effect'? Sketch2AE is the correct platform for you that will help you export your sketch to Adobe After Effect. With this plugin, you can export shapes you want to AE shape layer that positions them automatically.
Top Features:
Helps to easily export sketch to Adobe After Effect.
If a user wants, this can later be exported to Photoshop.
Supports grouping
Exports gradient fills, gradient strokes, image files, and textures as an image of the layer.
Image effects like Blur and Color Adjustment will be rendered so that their design in the sketch can be preserved.
The text is live in AE and can be easily edited.
Supports shape rotation
Download Link: https://github.com/bigxixi/Sketch2AE
Magic Mirror is a Sketch Plugin originally developed to add a critical feature that is missing in Sketch 3 — Perspective Transform Tool for Images. So, you do not need to export your sketch to photoshop. Instead, you can use the plugin and transform the image as wanted.
Top Features:
Live update
No need for Photoshop, Sketch can be transformed using this plugin.
Persistent toolbar for quick access.
Download link: https://github.com/MagicSketch/MagicMirror
Fontrapid is the free font creator plugin for Sketch that will create full-fledged OpenType fonts which can be used for print, web and mobile. You can even sell fonts on any marketplace that you have designed.
Top Features
Stunning fonts in few clicks
Easy to tweak the glyph's metrics such as left/right kerning, ascender, descender, etc with real-time preview.
An enjoyable way to create a professional font.
Download: https://fontrapid.com/
Gif.me embeds Gif images or videos in your sketch file making your sketch better. It supports Gifs, Mp4 and much more. The videos are stored as part of your sketch file. You can also convert text to vectors and then add a gif to it for text with an animated texture effect.
Installation
Open the terminal and install homebrew.
Run brew and install ffmpeg
Download and install the latest plugin release
Select Gif me from plugin menu.
Usage
Select the shape which you want to fill with Gif image or video.
Run Plugins-> Gif me
Select the gif or video you want to add
Download: https://www.sketchgif.me/
Syntax Highlighter is used to highlight the code snippets used in Sketch so that you can highlight the important snippet which you consider as important.
Installation
Download the plugin and unzip the package.
Double click on sketch-syntax-highlighter.sketchplugin
Features
70+ popular themes available for highlighting.
You get a live preview of the highlighted snippet just after the work.
Supports more than 170 languages.
Automatic detection of the language of code.
Download: https://danielguillan.github.io/sketch-syntax-highlighter/
Over to you
We hope you find these plugins very helpful. In next article, we will cover best plugins of Adobe Illustrator so don't forget to subscribe. Also, please check out Iconscout to find amazing icons for your next project.