Hola Amigos! Today we are starting a new article series 'Use case of Icondrop'. Icondrop is an Iconscout plugin for Sketch, Illustrator, Photoshop, XD, InDesign, Google docs/slides, and Microsoft Word/PowerPoint. Using this plugin, you can easily insert Millions of free icons, illustrations and stock photos from Iconscout directly inside your tool.
In this blog series, every week we will showcase Icondrop use in different tools. So here is our first article, How you can super fast your powerpoint presentation workflow using Icondrop by inserting icons, illustrations, and photos from millions of resources.
You can download our FREE plugin here: https://iconscout.com/icondrop
Download the plugin and let's start designing.
---
1. Add Icondrop
Before we start, we need to install Icondrop plugin for Microsoft PowerPoint. If you are using Microsoft Office offline version, then follow these steps in order to install.
Step 1: Open Office Add-ins store

Go to Insert menu and click on Get Add-ins. You will find the Office Add-ins store where you can search for different types of plugins.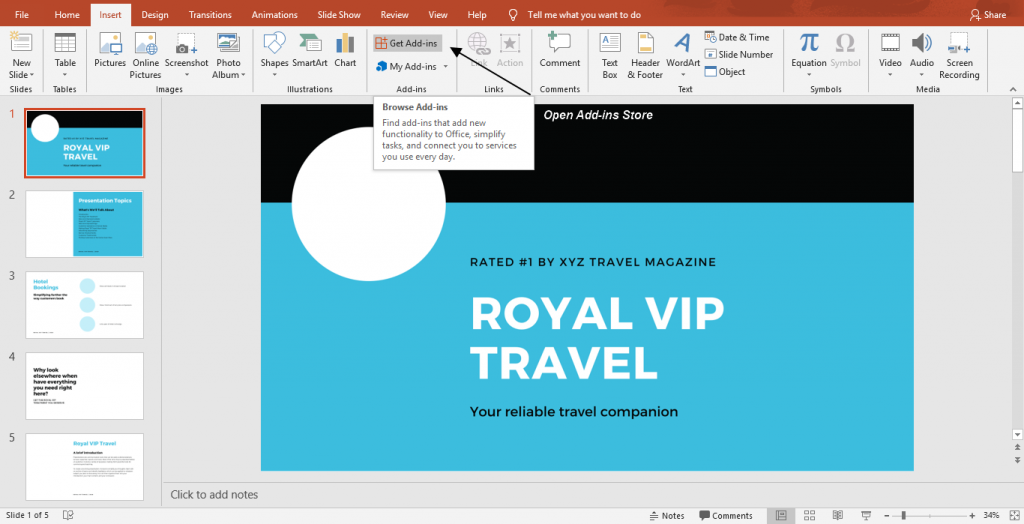 Step 2: Add Icondrop
Search "Icondrop" in the search bar and click on the Add button to install the plugin.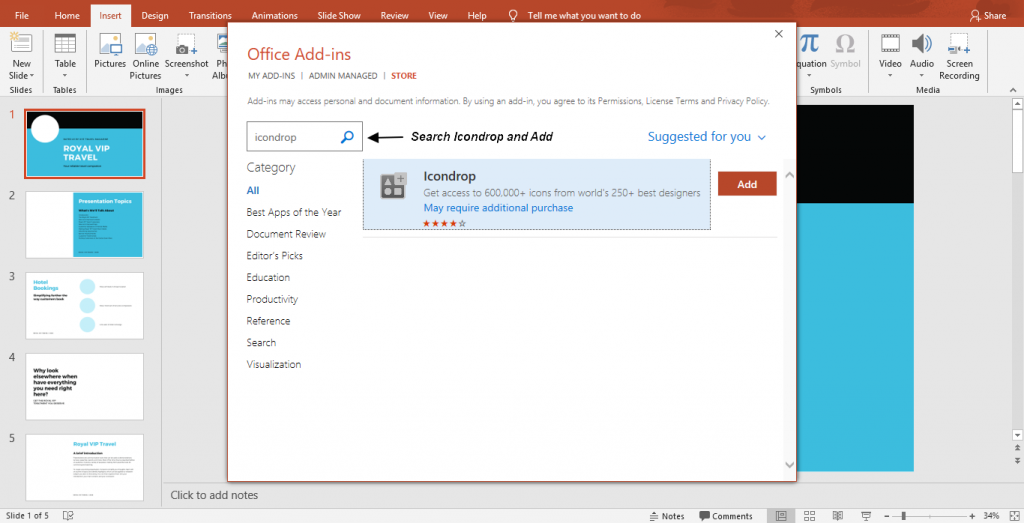 2. Open Icondrop Plugin
Step 1: Click on Icondrop
Once you install the plugin, you will find Icondrop option at top right corner in Insert menu. Click on the Icondrop icon and you will see Icondrop on the right side of your window.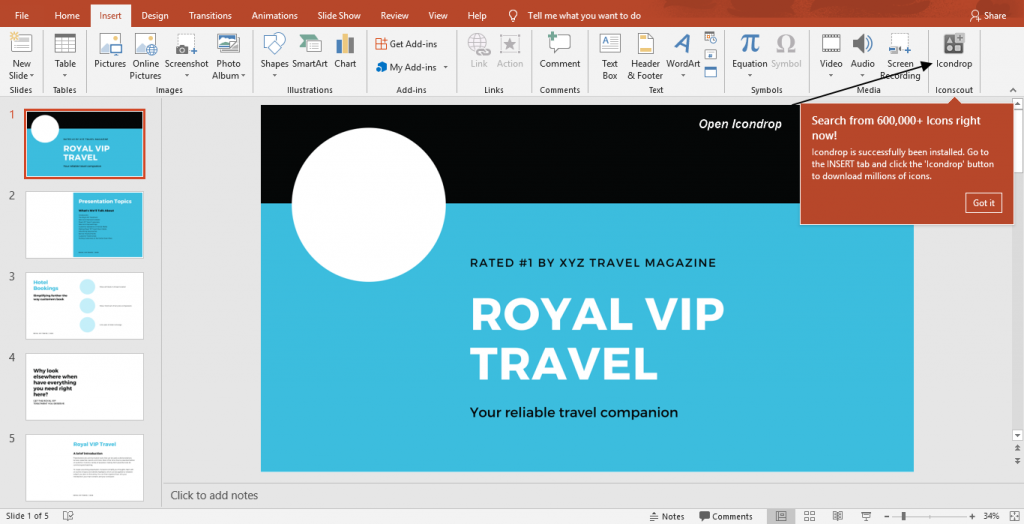 Step 2: Login to Iconscout to insert Premium assets
Iconscout is providing thousands of Free icons, illustrations and stock photos inside Icondrop plugin and there is no need to Login or creating account. But if you want to insert any premium asset, then you need to log in to your Iconscout account.
To log in, click on the profile icon on the top right corner and enter your Iconscout credentials.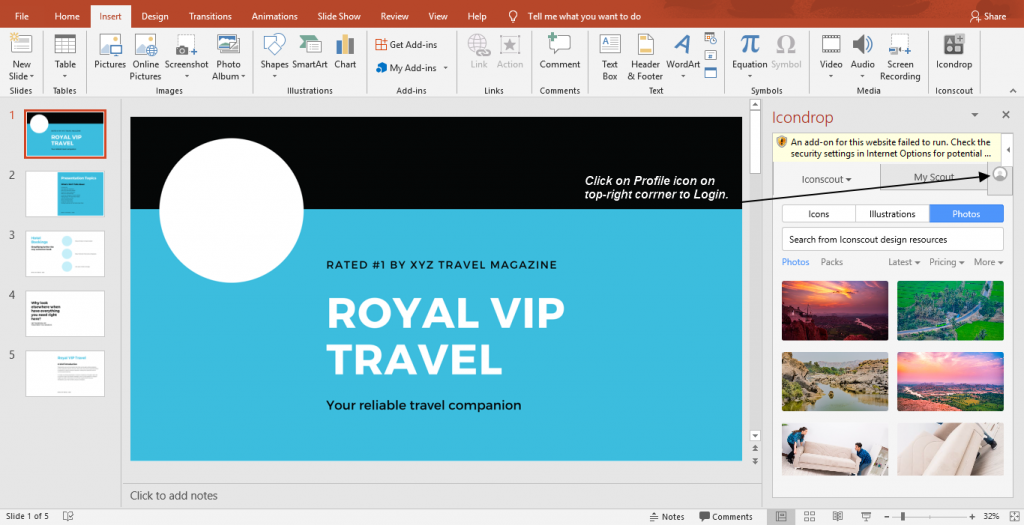 If you don't have an Iconscout account, click on the Signup button from down. It will take you to Iconscout web where you can create your account.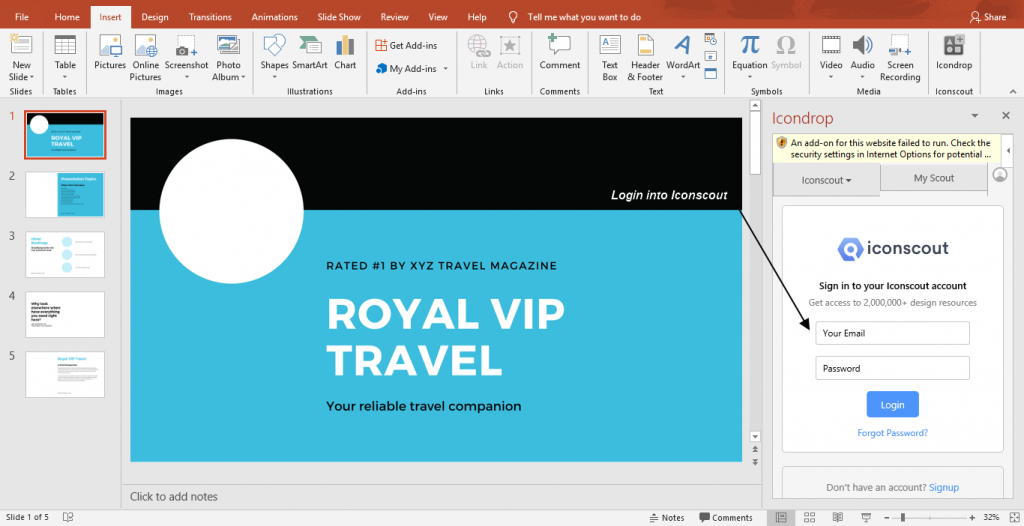 3. Search and Add Icons
Iconscout has a collection of over 1 Million icons. These icons are very well categorized in different categories, styles, and even colors. You can apply different filters while choosing any particular icons. There are both Free and Premium icons available. Since we are designing a presentation for a Travel agency, we have searched here with "Travel" keyword.
Below search bar, you will see two options: Icons and Packs. You will find all the icons with tag Travel in it. If you switch to Packs view, you will find different icon packs related to Travel. In one pack, all the icons will be in the same style so it will help us in maintain consistency in design.
Click on the particular icon to directly insert it or click on view icon to see icons larger preview and click on Insert button to insert the icon. You will find License information as well as icon pack information when you click on the view button.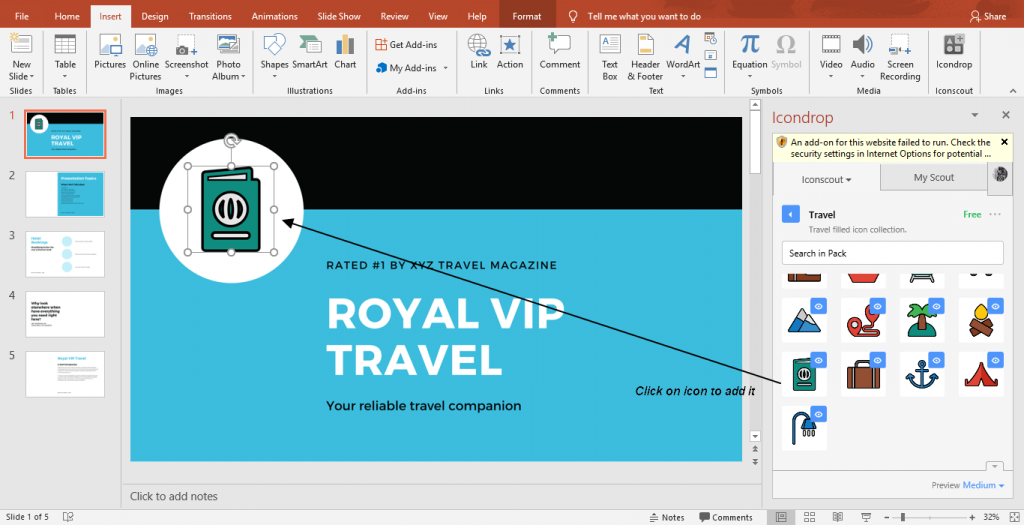 4. Add illustration from Illustrations tab
Just like icons, you can add from thousands of Illustrations in your presentation. Along with basic filters like icons, you can apply some extra filters like Illustrations' orientation: Horizontal or Vertical, horizontal or vertical panorama, square illustration etc. Click on the illustration to insert in to slide.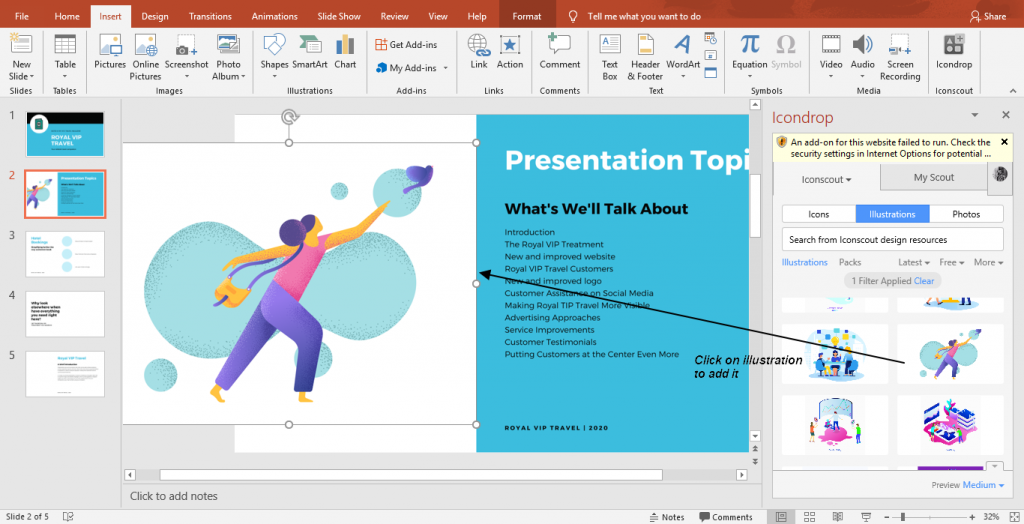 5. Search and Add Photos
As they say, one picture is worth thousands of words. You need more photos in the slide. Click on the Photos tab and you can see some of the best photos from the world's leading photographers.
Along with basic filters, there are some advance filters to choose like Photos with/without people, people ethnicity, Age, Gender, etc. Using this filters you can select the perfect photo from millions of photos. To insert photo, click on it.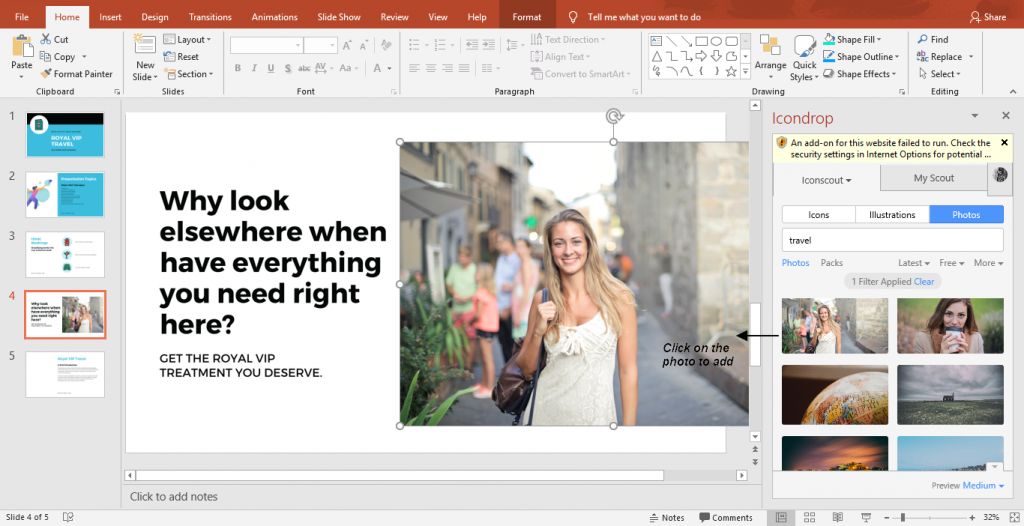 You can change the size of any asset according to your need.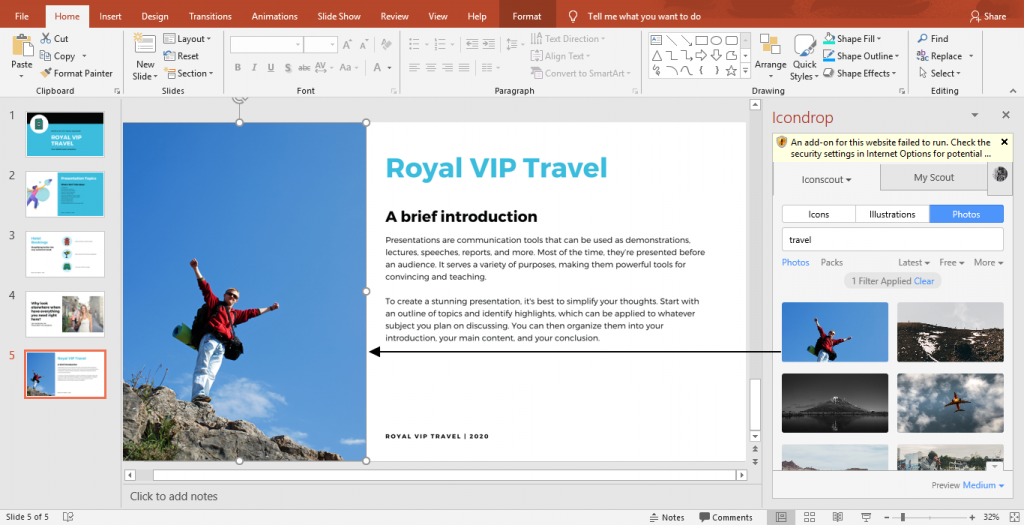 Final Output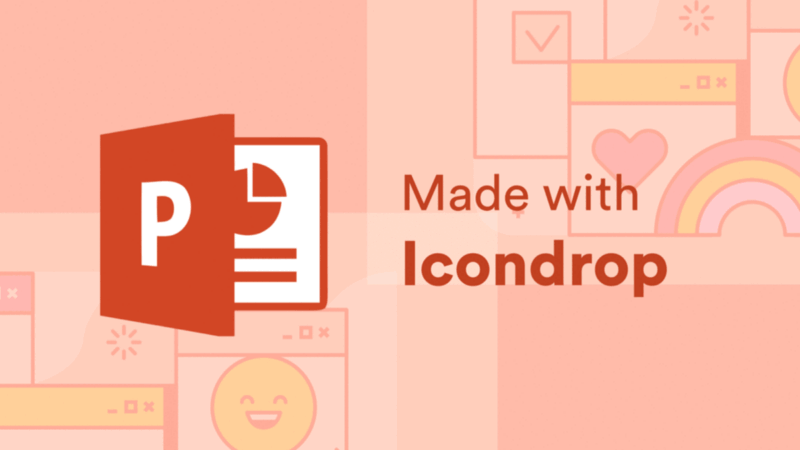 ---
You can download free Icondrop plugin from here. We hope that this will help you in designing your next PowerPoint presentation. Subscribe to Iconscout newsletter and never miss an update. Visit Iconscout to download Millions of free assets. We will come up with Icondrop use case blog next week for another tool. Till then, Happy Designing!!