One evening, while working on my research work of CMV (cucumber mosaic virus) resistance Tomato got over, I found something fascinating. Along with the submission of the research thesis, I needed to make a presentation of our work. Hence, I typed the word 'Tomato' in google search box for including some images in my slides. The result produced many images some of which were unique and creative, which I had never seen before; exploring deeper I came to know that those are called illustrations. It made me inquisitive about knowing the types of software and approach used for generating such amazing designs.
A few days later, while learning more about Illustration on Google, I came across some mind-boggling work of Ranganath Krishnamani's; so I started following him on social media.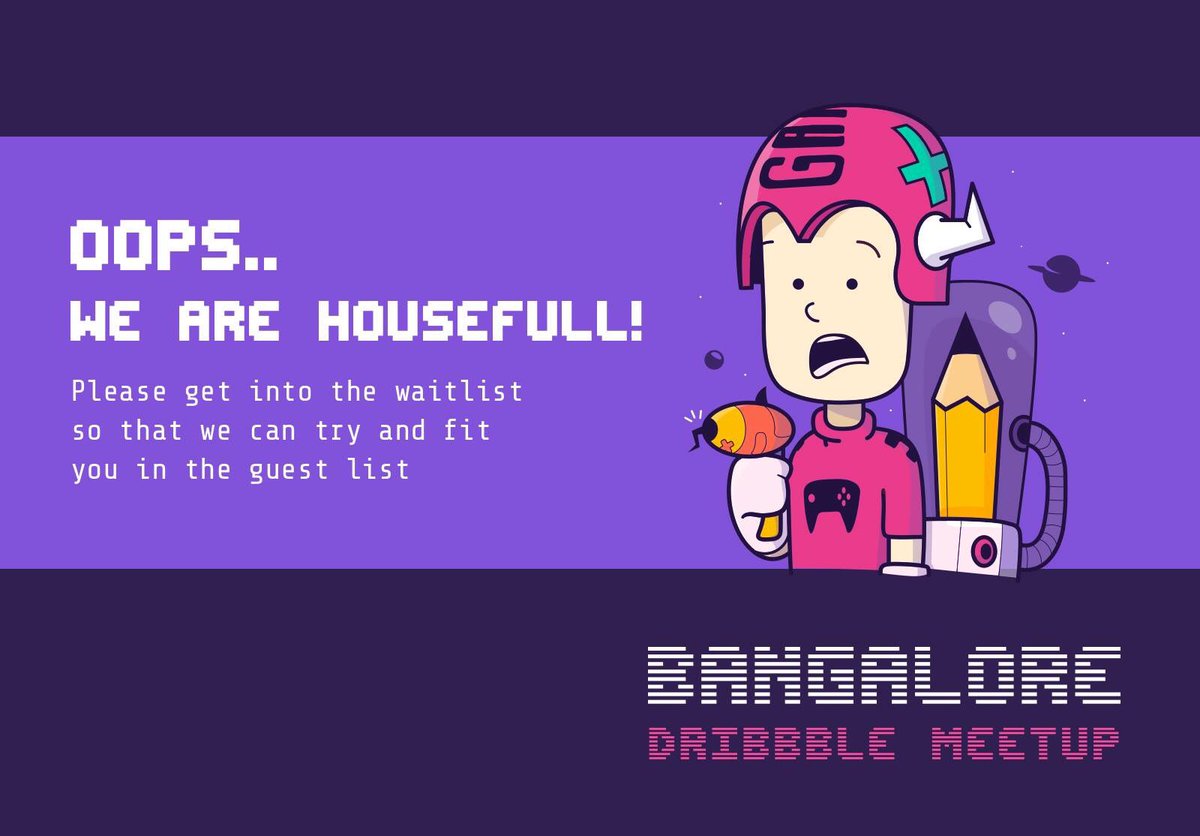 While going through his posts, I found information about "BLR Dribbble meetup 2k17". Initially, I did not get a place to attend #BlrDribbble. But fortunately, later I did. I was super excited about the meetup. And finally, the day came, it was Saturday, 18th November. After reaching the Zeta HQ, when I went through the registration process, I was not able to find my name on the list. Thought of missing my first ever Dribbble meetup frightened me but one of Zeta team member asked me not to panic and they allowed me to do an on-the-spot registration. 

This year's Dribbble meetup theme was Gaming. At a time of registration, every participant received one Passport which was going to be used in numerous activities during the meetup. Every passport has one team name written on it with whom I will perform activities. When I enter the office, environment inside was so much energetic. I've seen so many designers interacting with each other and there were Zeta team members in their Yellow T-shirts welcoming everyone.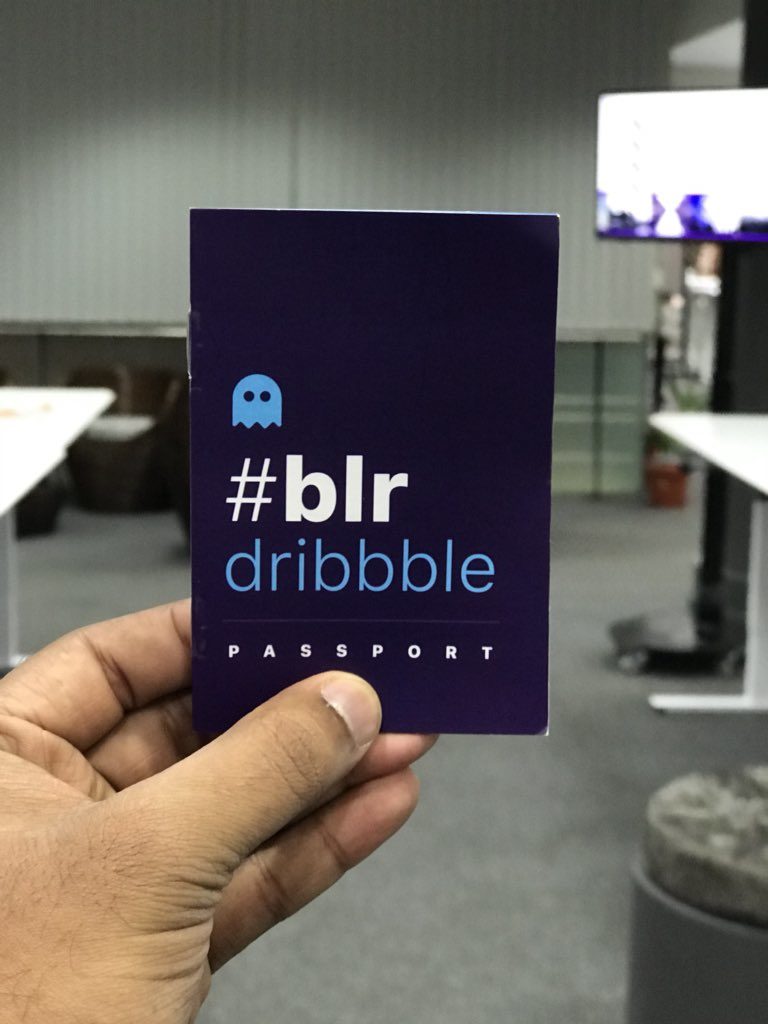 After few interaction here and there, I heard the bell ringing. Saptarshi (Zeta team member) was on the bench and brief us about the agenda of the day. Our first task was to search for our teammates based on team name written on everyone's passport. The interesting part was Zeta team will not help you in this. You have to find your team on your own. And within a minute, I've seen something that I never imagined to happen in a meetup. People were shouting, screaming, holding their passport in the air, roaming here and there to find their team members. It took me 3 minutes and 25 people to finally reach to my team — "The Infected".
Every team has got one desk and there were around 8–9 person per team. We started with introducing ourselves. Soon after we were asked to collect stationary which included Drawing sheet, Cardboard, Pencil, Sketches, Eraser etc. and given a task to create a board game using it. Every team has got one task sheet. It instructed us to design a game, Rule-book about it and a tattoo of our team.
We came up with an idea of designing a drunken man reaching home with all the obstacles between. This idea was by our teammate Divya, who had been to a pub other night. Meanwhile, Zeta team members were visiting each desk and giving an on-the-spot task to perform individually or team. On performing successfully, everyone will get Zeta stamp on the passport. At the end of the day, Team/Individual with the highest number of stamps will get special goodies.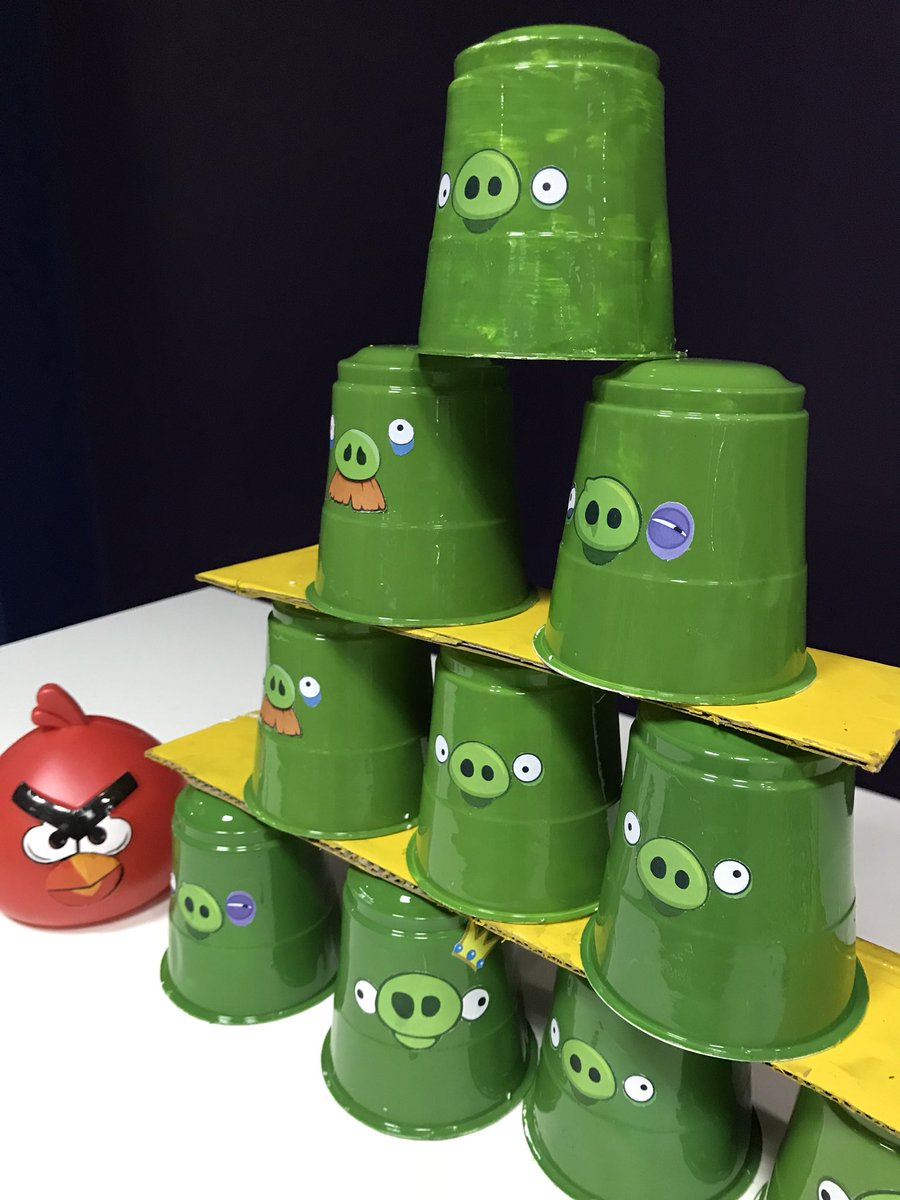 By the time we discussed our ideas on designing a game, it was time for our meal. We decided to go in batches for the food so that the other batch could work on designing the game board but we ended up eating together. Zeta crew Ramakrishna came to us with the stamp asking who is your favorite actor and tell his/her 15 movies name in a minute. Krishna, from our team, is a huge Kamal Hassan fan and he recalled about 14 movies and still got a stamp, so kind of you Ramakrishna.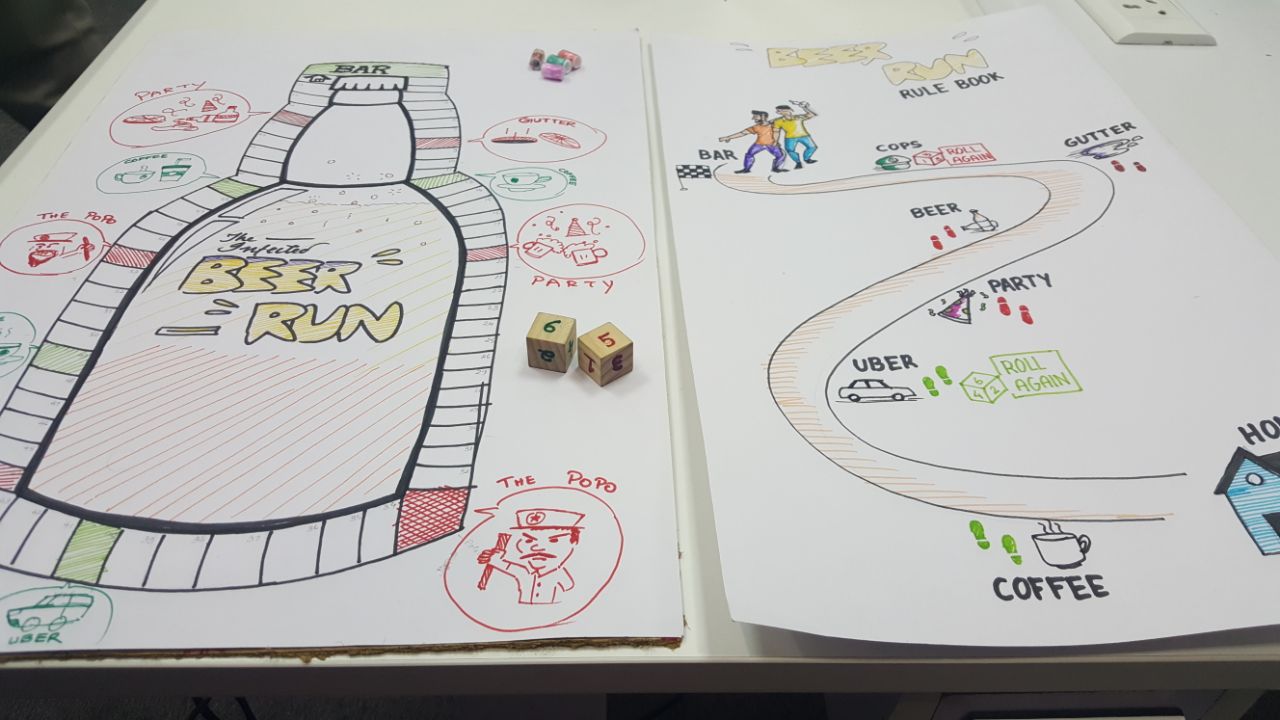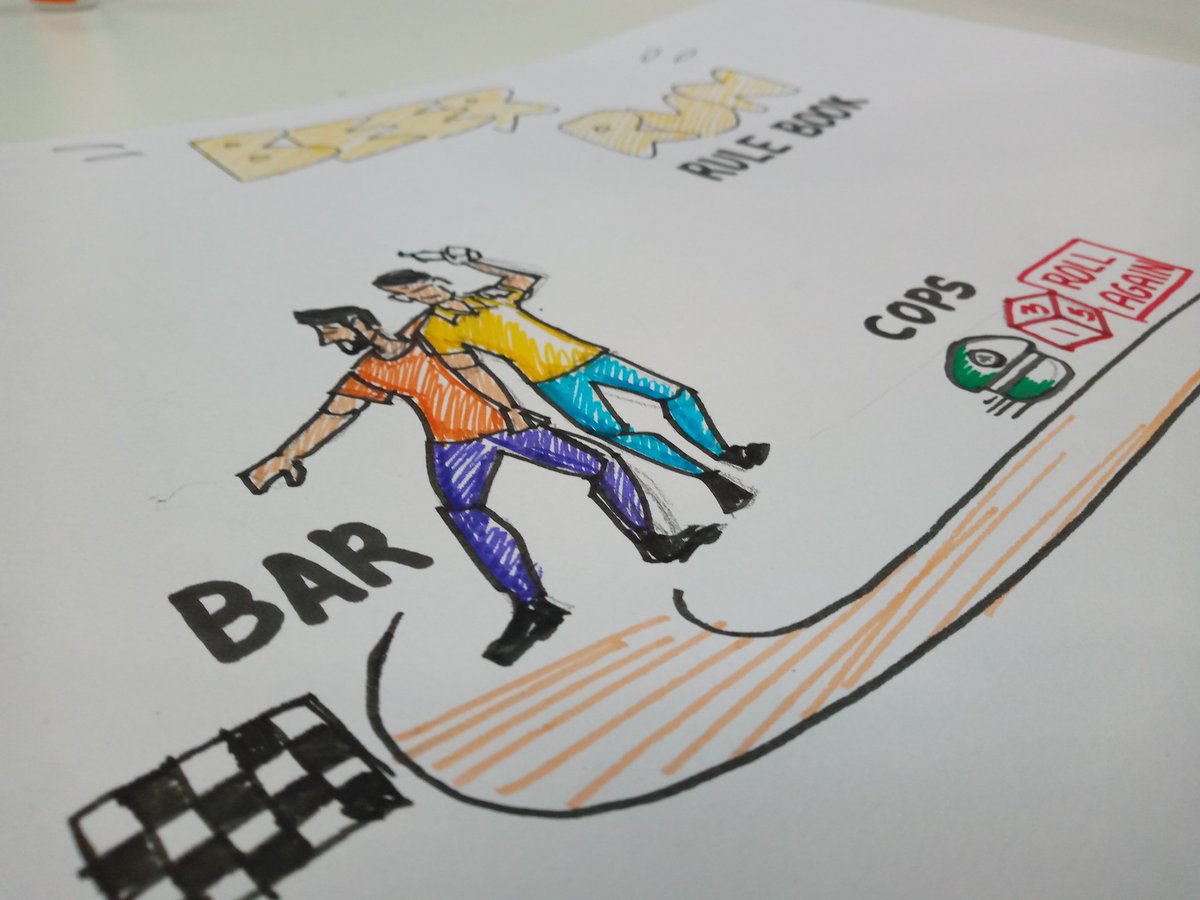 We named our game 'The infected BEER RUN' as we designed our board in the shape of a beer bottle. In creating Rule-book, we decided to go for simple yet creative approach, doing an Infographic Rule Book, thanks to Tarun for coming up with this idea. Our game had two separate dice — Green and Red. When you roll a dice Green, a player will move one step ahead and with Red, one step behind. We ensured that the player goes further than lacking behind by putting Even numbers on Green dice n Odd numbers on the Red.
When we were busy in finishing the game, Zeta team organized some fun fitness task like squat and push-up where one member of each team will compete to do maximum numbers of squat and push-up. After fitness activity, everyone gathers near stage area for final presentation. From our team, Mayur brief everyone about the game. Although we didn't get the price but got very good feedback and loud applause from the audience.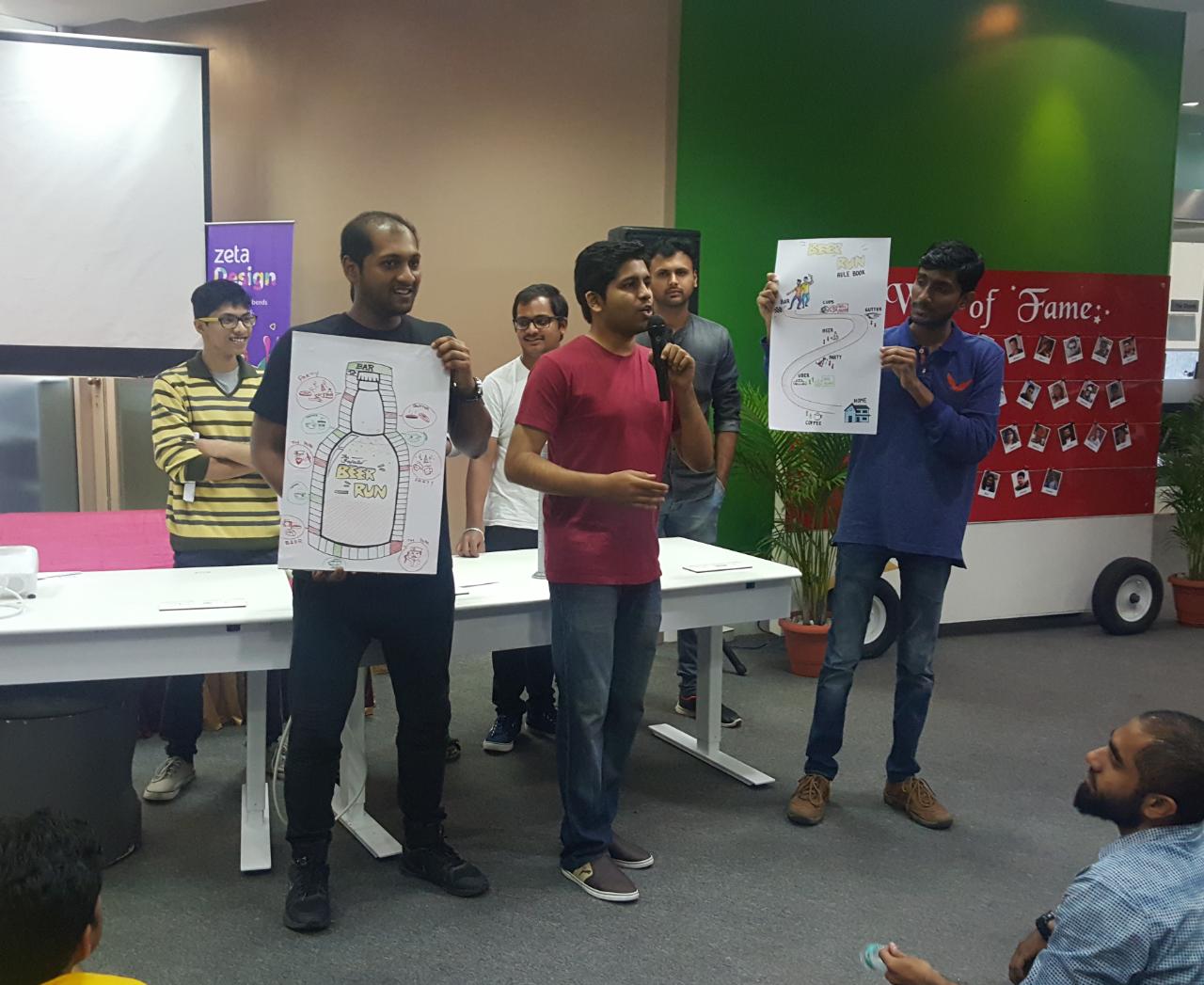 After completing the presentation, I got a chance to interact with other team members. While other teams were giving a presentation, some were listening to it while others were making new friends or feeding themselves with food. 
At the end of the presentation, all the teams and individuals got their prices. With board game competition, other games and activities were also going on and all the winners of those games were also felicitated with prizes. Zeta crew make sure that with lots of memories in our heart, we don't go empty-handed. All the participant got goodies like a T-shirt, some laptop stickers, flask and a gift card.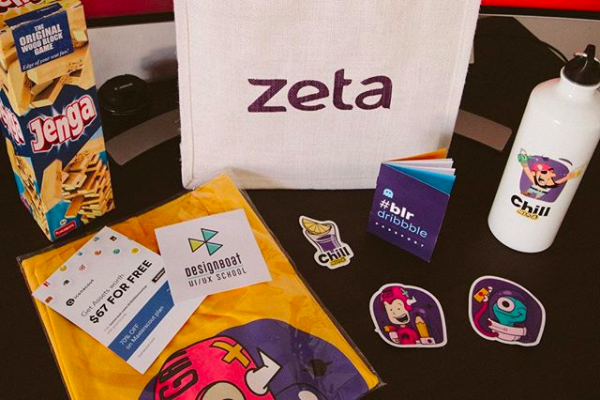 It was totally a festive atmosphere for all the designers across India. I would like to thank Zeta, Flock, DesignBoat, Indiefolio and Iconscout for sponsoring the event and all the individual designers who helped to make this event possible.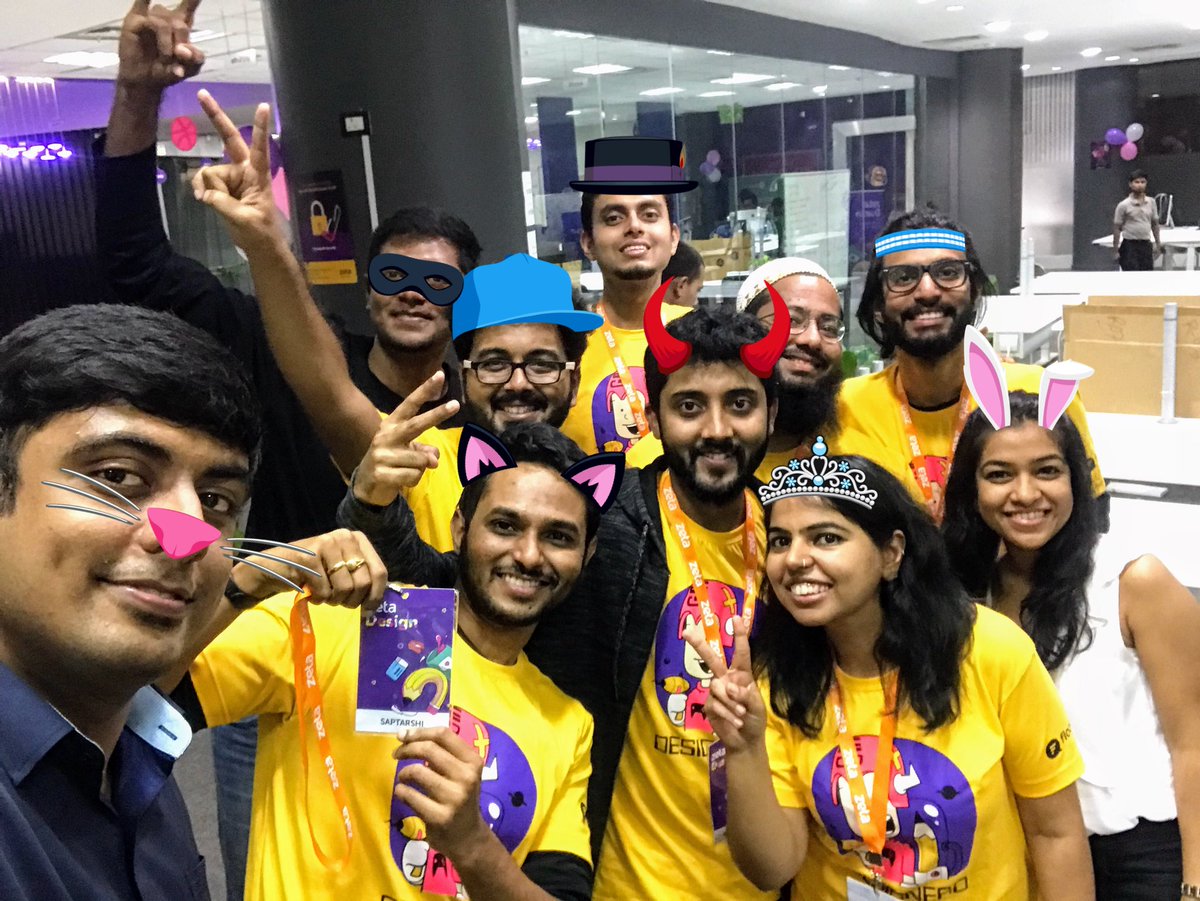 Thank you so much all the individuals for attending the event and make it a huge success. We hope to see more such events in our city.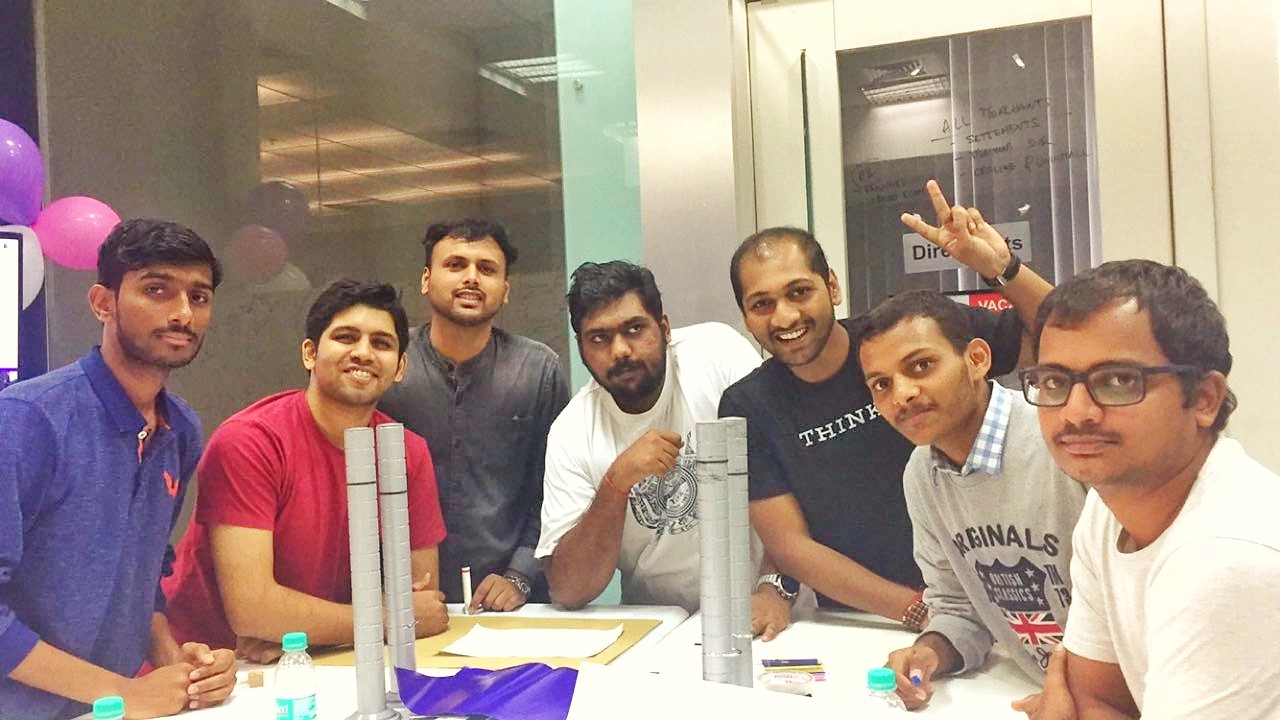 See you guys around 🙂