The last few months have been very challenging for all of us. With the widespread coronavirus, social distancing has been acting like a shield for us. We hope that you're all safe and at home with your families. Today we are here to inform you all about our product update for April month.
Iconscout has been working hard continuously day and night on new features. Even though we haven't seen each other in more than a month, we are trying our best to improve and fix the existing features.
The features listed below have a massive impact on our web's UI & UX and we are proud to introduce these to make our user's life easier.
Let's see what's new for our Iconscout users from April.
---
Product Page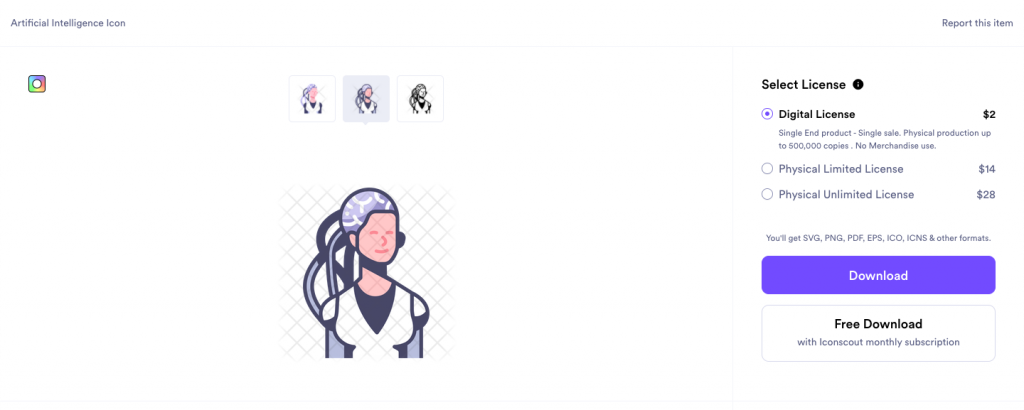 Our mantra for 2020 is Minimalism and this you will feel in all our latest updates. Starting with our product page, we have decided to divide it into two simple sections: Item preview and License selection.
In the item preview section, you can see a clear preview of each and every item in the center portion and the other available icon styles on the top section. You can easily switch from one style to another.
In the License section on the right-hand side, you can see different licenses we offer for each item and their respective pricing. You can easily switch between them according to your usage and to add items into the cart you just have to click on the Download button. You can see our subscription plans by clicking on the Free Download button.
---
Pack Profile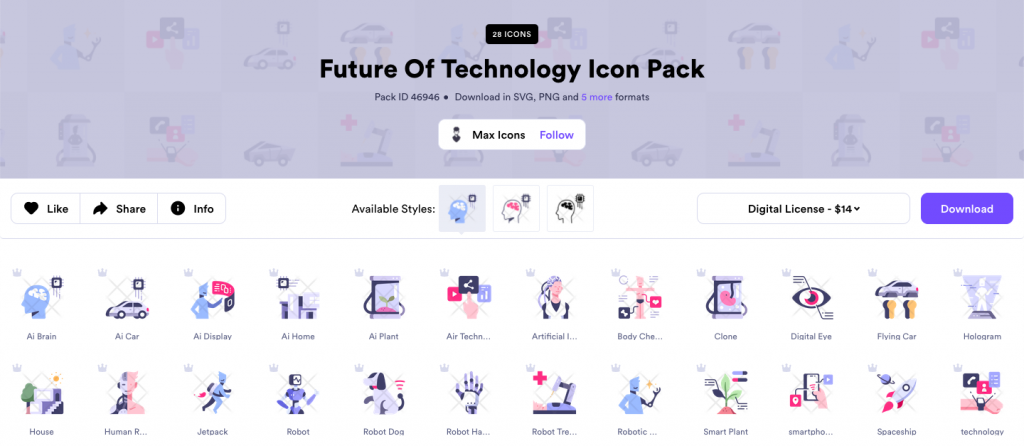 We have tried to give our pack profile the most vibrant look. Pack information is accessible in the upper section along with the pack ID, available file formats, and the creator's name. For more such creations you can access the creator's profile by clicking the follow button.
In the below portion, there is Like, Share, and Info button on the left-hand side whereas the License and Download button is present on the right. By clicking on the License drop-down, you can see all the available licenses for that pack.
The main highlight of this new pack profile is the Available styles it comes in. A feature we are introducing for the users and to make their life simpler.
---
Styles in Pack Profile

We decided to do something cool for you. In the past, you might have faced difficulty in accessing different styles of Icon pack. Those styles of the pack were shown below the icon listing which left them undiscovered but now it is not the case. But don't worry now you can switch between different styles of the pack easily with our latest update.
To make things easier, we have put an extra section where you can see all the Available styles of the pack. Click on the sample icon and all the icons of that pack will appear in the listing section.
To try this feature click here: https://iconscout.com/icon-pack/future-of-technology-1
---
Mac App in Beta
It's here, finally. You've all been waiting for this for far too long, and we're finally ready with our Mac App. While it's still in Beta, we're getting a really good response from the users.
To get all the Iconscout icons available at your fingertips you just have to Install the Desktop app and that's it you can access them anytime anywhere. It is very easy to use: Open the app, search for the icon you want, drag and drop it into whatever application you want it in and voila, the icon is there in your document.
We are working on the final version of it and soon we will come out with something much better and beyond Beta version. Windows and Linux users don't worry, we are already working on it too.
Download Mac App from here: https://iconscout.com/download
---
Coronavirus icons in Unicons

It's indeed a tough time for all of us. Everyone in the world is doing a fair share of their bits as are we. We have added some very useful icons related to Coronavirus in our Unicons icon library. It contains all that is needed to know about coronavirus. So don't forget to check it out.
These icons are available under the Medical category of Unicons both Line and Monochrome style. Download from here.
---
That's all the updates from the month of April. Tell us which update you like the most. If you have any suggestions or work on anything, you can write to us on our Community forum.
Don't forget to check Iconscout to see the fresh content and try our new features. We will come up with new article very soon. Till then, Happy Designing!