Written by Varun Trivedi and Dhwani Raval
In Last decade, India is transforming from being information economy to design economy in a big way. In this digital era, providing exceptional User Experience across all platforms is need of an hour. Based in Silicon Valley of India — Bangalore, Lollypop Design Studio is the pioneer of this change.
Founded by Designer Entrepreneur Anil Reddy, Lollypop Design Studio is a team of extraordinary designers and thinkers determined to solve the complex problem using design thinking.
Recently awarded as India's Best Design Studio, 2017 by Times Group, Lollypop is arbitrated to empower lives by combining Design with Technology.
The present market scene of the business of design is immense and it will develop substantially greater. Impressed by their accomplishments and their unique attitude towards the industry, Iconscout approached the organization to cover an interview with them. Iconscout team members Varun Trivedi and Dalpat Prajapati had interacted with Lollypop team members: Kruti Reddy, Sathish Natarajan, Dhruvi Shah and Mishq.
Varun: Tell us about your early period; how it started, who initiated it etc. Can you throw some light on the same?
Kruti: Lollypop was founded in the year 2013 with just 1 more designer on board as a sole proprietorship. It was in 2015, that we were incorporated as Pvt. Ltd. as Pixitree Digital Creatives with Lollypop as a brand.
Lollypop was the result of Anil's passion to 'Put India on the world map as a digital design destination'. During his professional journey, he met a lot of designers who were surprised to find out that being an Indian, he was heading the digital design department overseas. They would often express their amusement and would debate on how India was good at arts but failed when it came to designing. Even though Anil was at the peak of his career, the feeling of discomfort never left him, and somehow, he wanted to establish that we, Indian designers are as capable as their western counterparts. So, one fine day, he just packed his bags and returned to his birth city, Bangalore.
However, it was a huge gamble to leave behind a cushy job and a well-settled life in NZ, to return to India with his wife and an infant son to chase a dream. Early days were extremely hard as the entrepreneurial Eco-system was not ready for investing in experience design and was still focused on product investment, but, with a lot of workshops, hard work and start-up boost, we saw a turn around of the events and today we can say that it is the era of designers.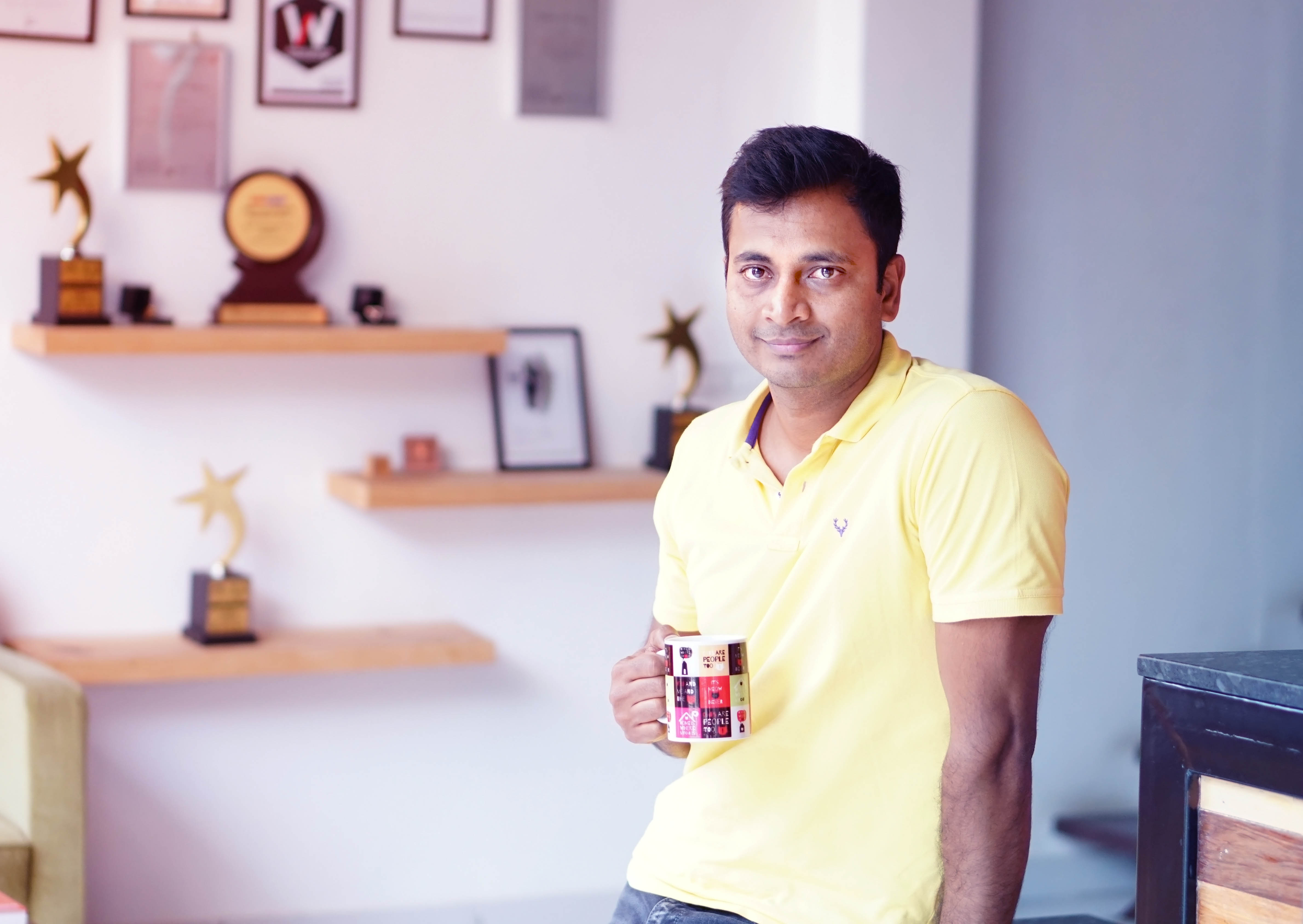 Dalpat: How do you formulate your team structure?
Sathish:
During the commencement of Lollypop Design, our family comprised of just 3 members, which has now transformed into a house of more than 80 members and a branch in Mumbai.
At Lollypop, we have divided our members into four teams — User Interface (UI), User Experience (UX), Front-end developers and Management Team.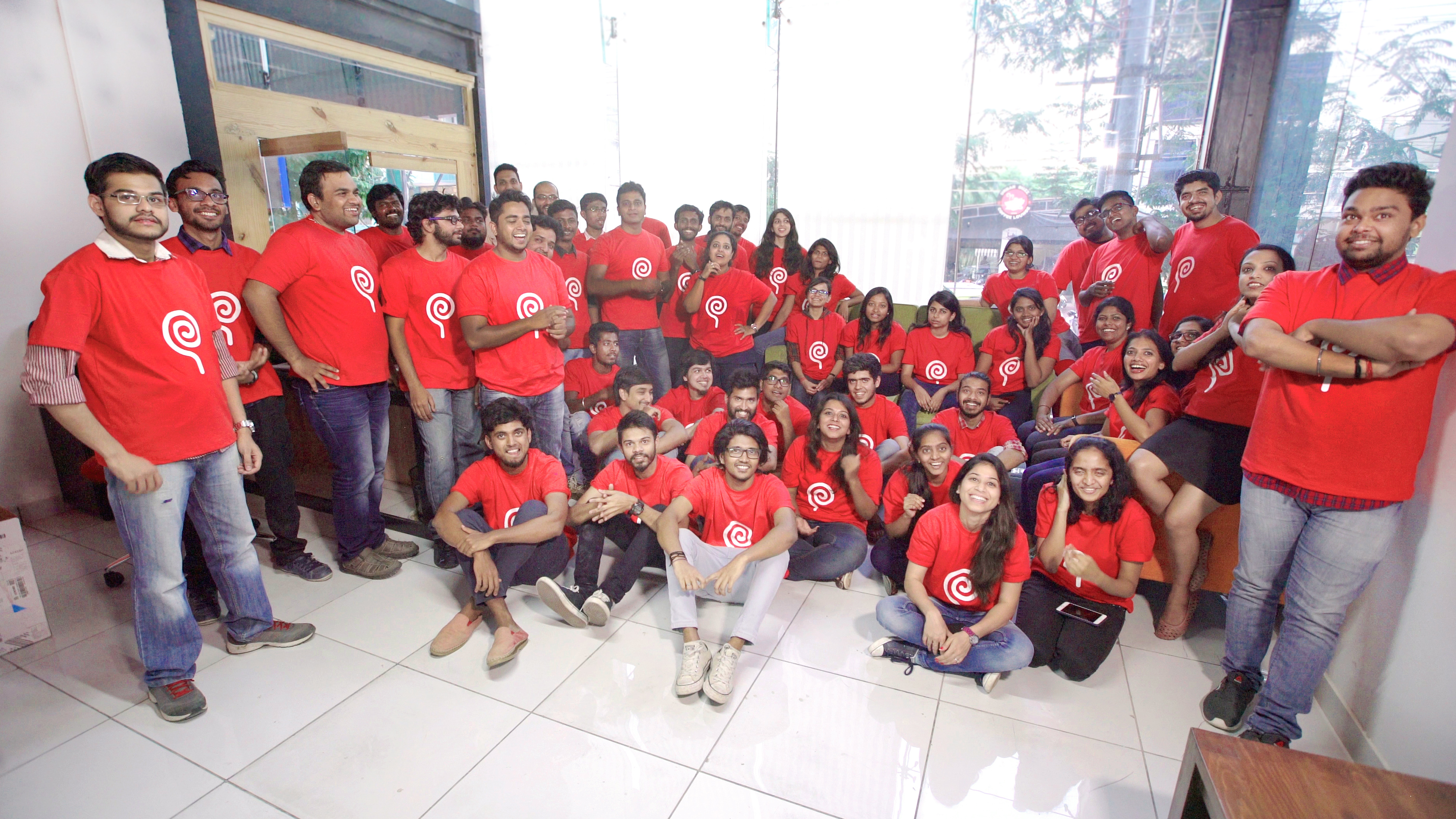 Varun: At a time, how many projects are handled by your team/s simultaneously? Also, how are your teams divided to manage the same?
Kruti: Currently we have roundabout 20 running projects. Everybody is working on different projects.
Every individual in Lollypop Design, irrespective of their project and team, works towards accomplishing one vision — great user experience.
To achieve so, a correct comprehension of the project is necessary.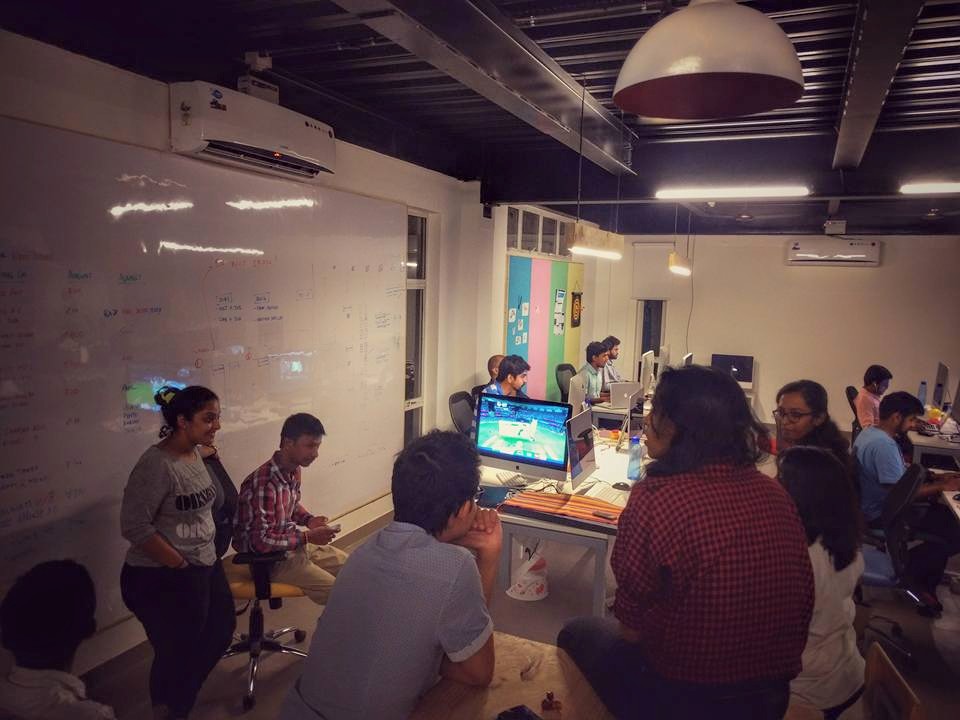 A proper process is in place which begins with BD (Business Development) team sealing in the projects and its scope. During this stage, we assign the designers who would be working on the project after discussing with the team. Later, we begin with knowledge transfer where a dedicated team of project managers and designers understand clients and their requirements. It is then followed by our processes for research, UX, UI, and FED. We keep the process very agile by reducing TAT on feedbacks and implementing various processes simultaneously.
Dalpat: How is your design process?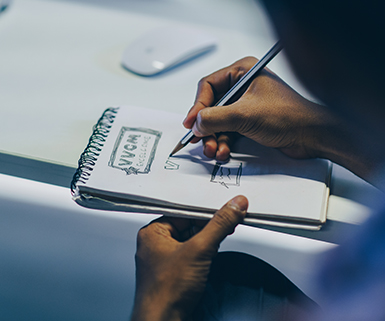 Dhruvi: Our process is comprising of 3 steps — Discover, Define and Design. During the discovery phase, we understand everything we need to from our clients, their vision, intended users, targeted industry, technology preference, platform, and markets. We invest much time here to get the desirable insights into the problem statement that we are looking at. Post this we move to the Define phase; herein we are very well versed with our users, their pain points, and technology. We begin with designing the information architecture and setting the entire structure for the selected course of problem-solving action. Lastly, once we have the interactions and solution in place, we begin with visual design.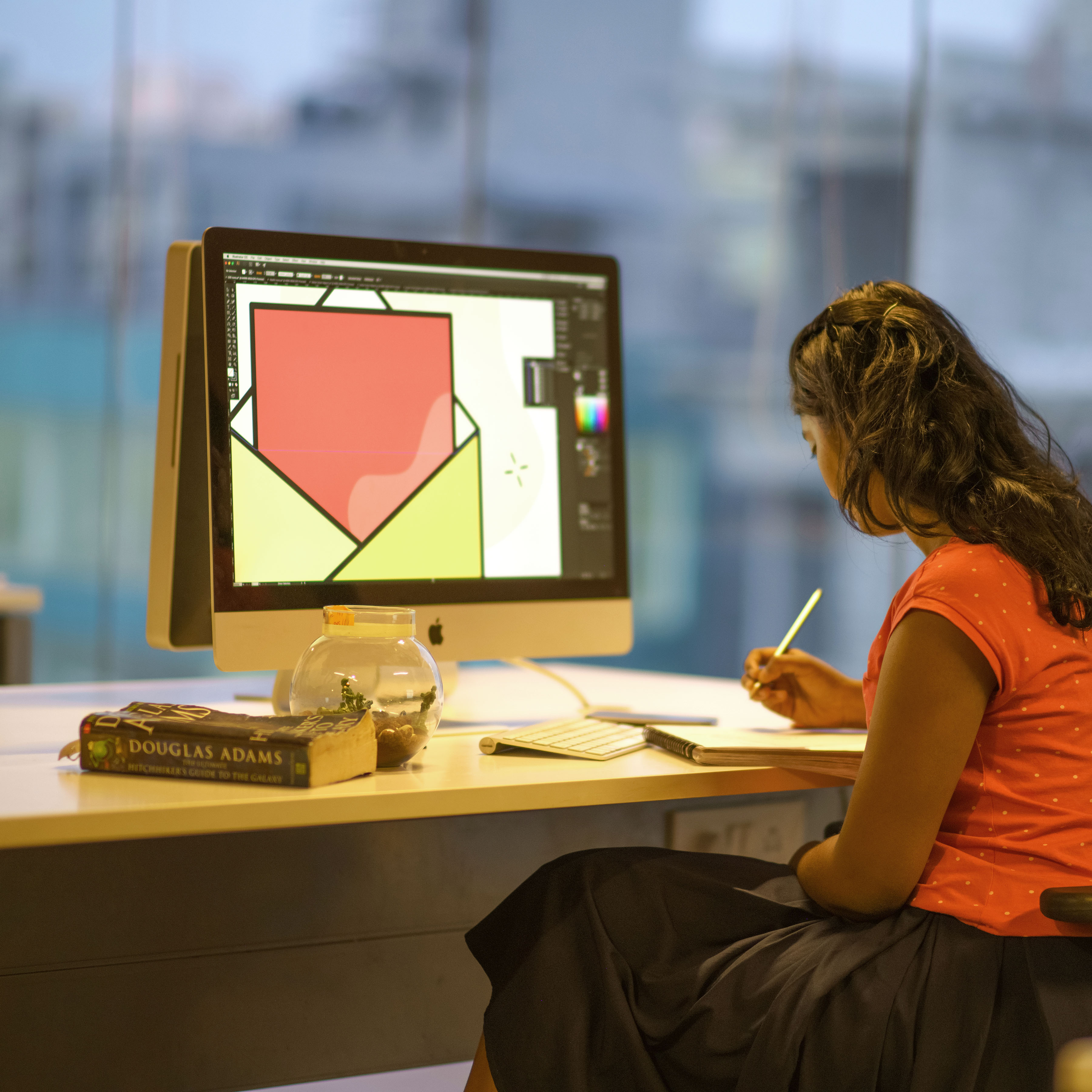 We work collaboratively with clients and take sign-offs on our designs at each stage, so the design process is quicker and has zero communication gap.
Varun: Marketing as one of the factors behind such impressive feat. So, we would like to know how did you approach your clients?
Kruti: Yeah, I believe that marketing plays a key role in achieving success, however, Lollypop has never resorted to the age-old selling strategies. We believe in giving it all to our designs and later communicating the same with the prospects. For us, Marketing is an honest communication of our abilities and resources. Therefore, we suppose that our clients have been our biggest brand ambassadors and vouches for us.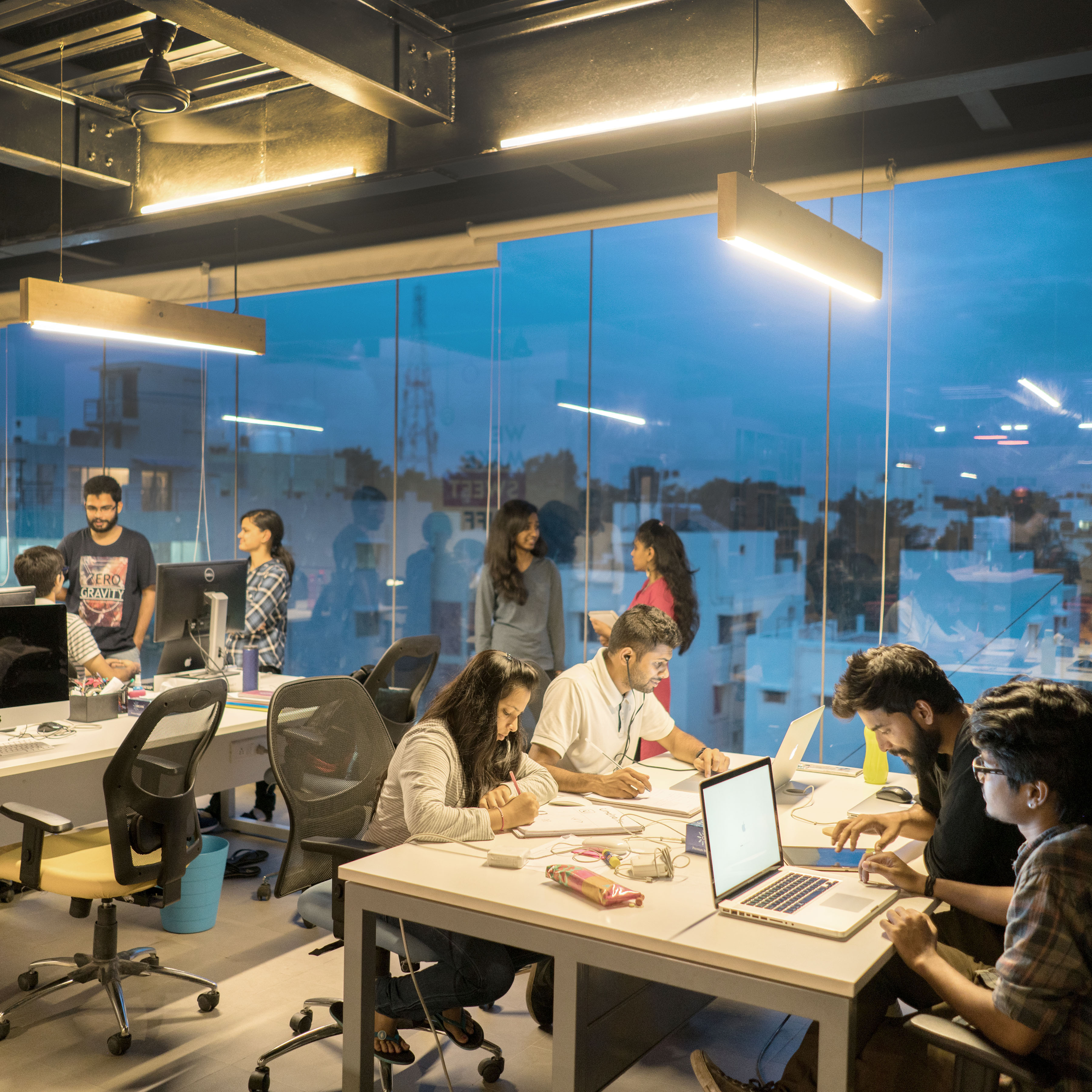 This strategy has worked well for us as we are always approached by clients and we can focus on our real asset and skills that is designing.
Dalpat: How many client meetings do you generally arrange for designing?
Sathish: It mainly depends on our clients, there is no such fix number for it. In our initial meetings with the client, we make them familiar with our entire process and the time frame required by us to complete each task. This is how we gradually ease them into every process. Fortunately, we have been associated with clients who have comprehended our process and have never pressurized us for any delayed task.
Our dedication, commitment, and quality of work have helped us in developing such harmony with our clients.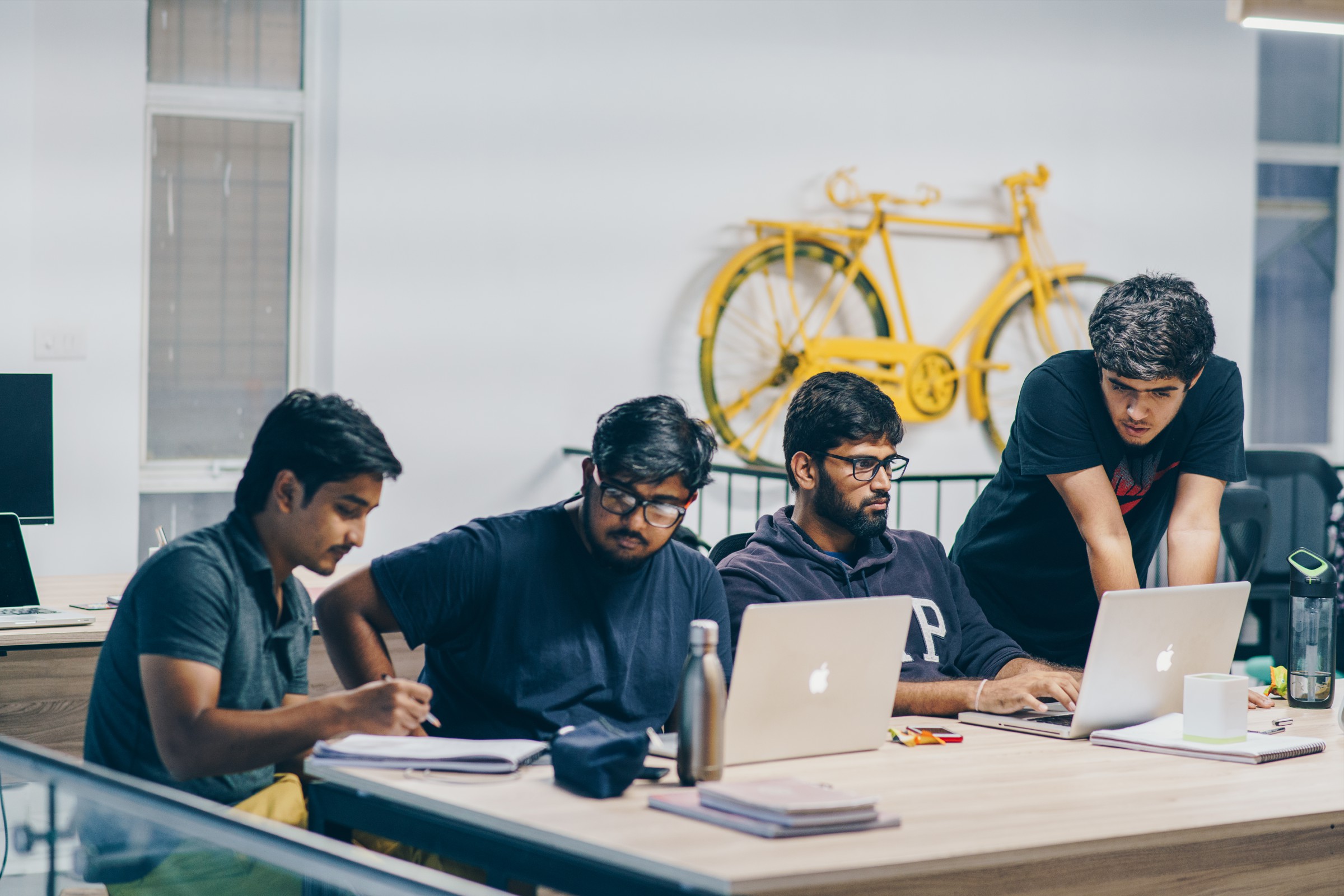 While we are hovering on the subject, I would like to mention something about a widely prevalent perception. Many people believe that international clients are way better than national clients in many aspects, but at Lollypop Design, we did not witness it. After all, regardless of their region, they are clients, they ought to behave in the best interest of their product.
Varun: Can you list some of the clients you have worked with?
Kruti: Over years, we have worked with more than 160 clients including fortune 500 companies and start-ups. Some of them are Myntra, Swiggy, The Hindu, Accenture, Housing, Stanford University, Paytm, Narayana Health and many more.
Varun: After each project, how do you scale up your design?
Mishq: One of the biggest advantages of working in a design studio is that you have a chance to work on different domains and acquire skills across industries. For instance, recently we were working with farmers then we were working with Fintech start-up, so the wheel of learning is endless.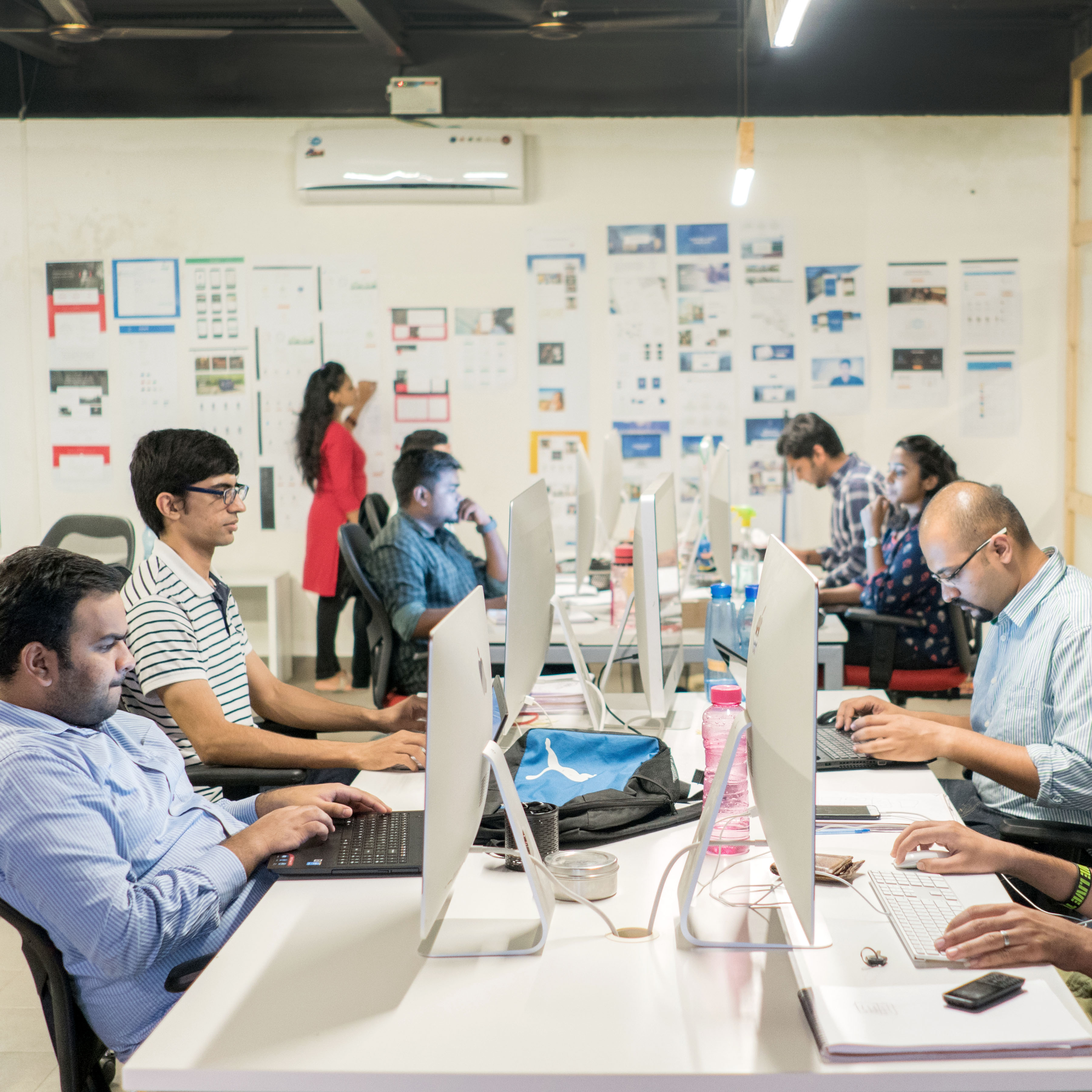 To answer your question about scaling up in design, I will say that we always learn from our past work. After the completion of one project, we analyze and identify where we could have done better, which we later implement in our upcoming projects. We also have a weekly session where everyone learns a new skill from each other to upgrade our skill set in-house. Beside this, we also have libraries and forums in-house where designers share exciting blogs or articles to keep them up to date with the trend. We also believe in spending on the innovative technologies because we should be aware of the platform we are designing for; the latest addition is the HP Windows Mixed Reality.
Varun: As everyone knows, designing is an evolving arena, where the discoveries of new technologies have become monotonic. How do you keep yourself up-to-date with the ongoing design trends?
Sathish: Majority of our staff, almost 85% is designers, all of which are highly active keeping themselves up-to-date with everything that's been going on in the designing world. But, at the same time, I would like to mention that we do not follow the online design trends blindly. The reason is, we have observed that for most of the designers who upload their work online, it might look good but it is not processed friendly. That is why we rely more on the reading materials available online such as Medium blog than following portfolio sites.
Varun: Which tools do you prefer to use for designing and collaboration?
Dhruvi: Mostly for designing we use Sketch, Adobe Illustrator, and Adobe Photoshop and for collaboration we use Zeplin.
Varun: Can you share about some exciting project you are working on right now?
Sathish: We are working on multiple projects right now but one of the most exciting ones is with Farmers. It is for an agriculture-based company and we are in the process of making an application for farmers; currently, it is in the research phase and our team is in constant interactions with the farmers of Karnataka and Maharashtra.
Varun: How is the work culture at Lollypop?
Kruti: We believe in the saying,
All work and no play makes Jack a dull boy.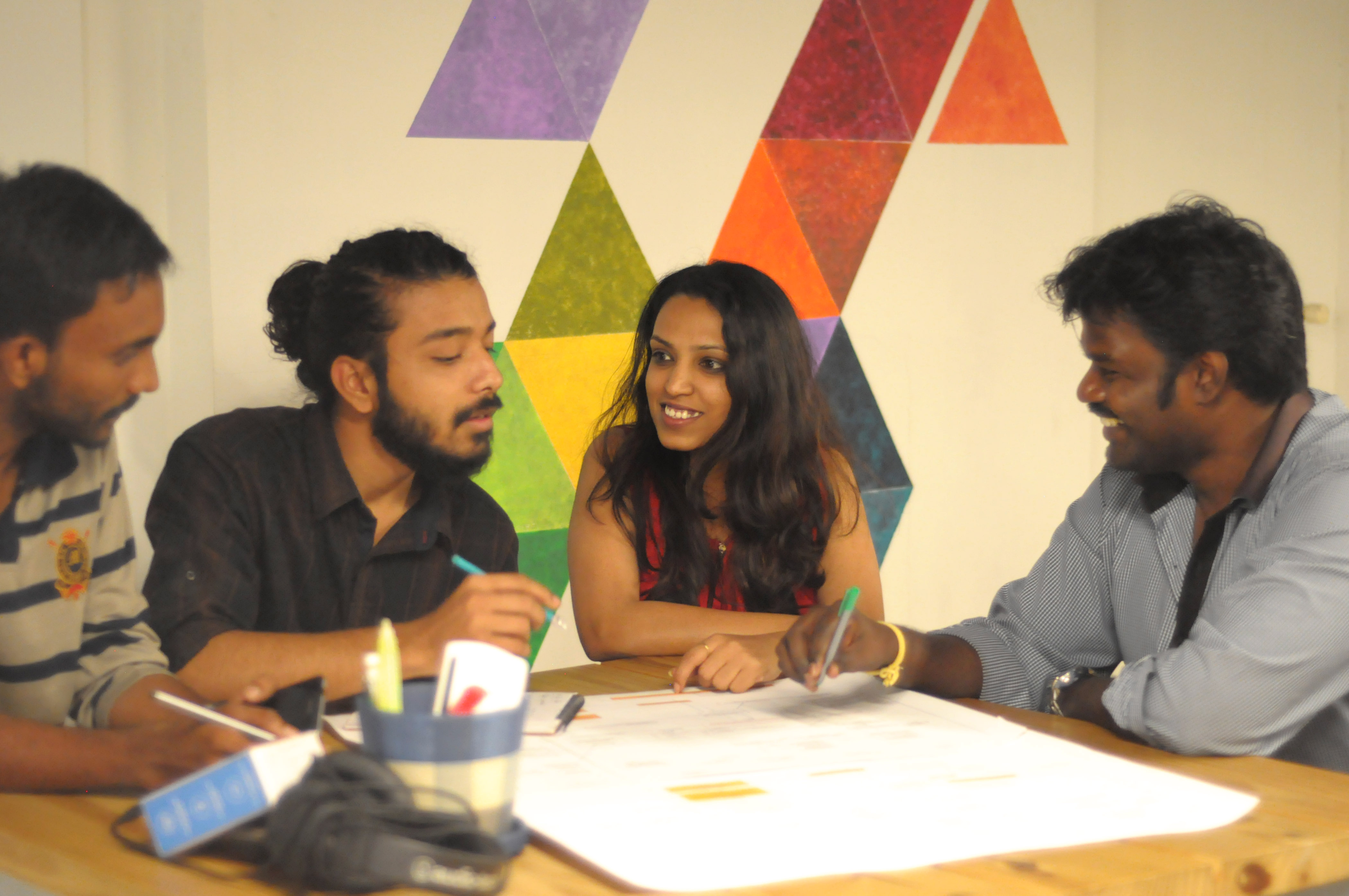 Our culture is simple, we believe in ownership, learning and living our life to the fullest. Every member of Lollypop is extremely true to their designs. We do not have strict rules in place because we are not required to and because we believe in open culture, anyone and everyone can put forth their opinions and suggestions up-front. Our management team also makes sure that there are sufficient fun activities so that the enthusiasm of employees can be rejuvenated.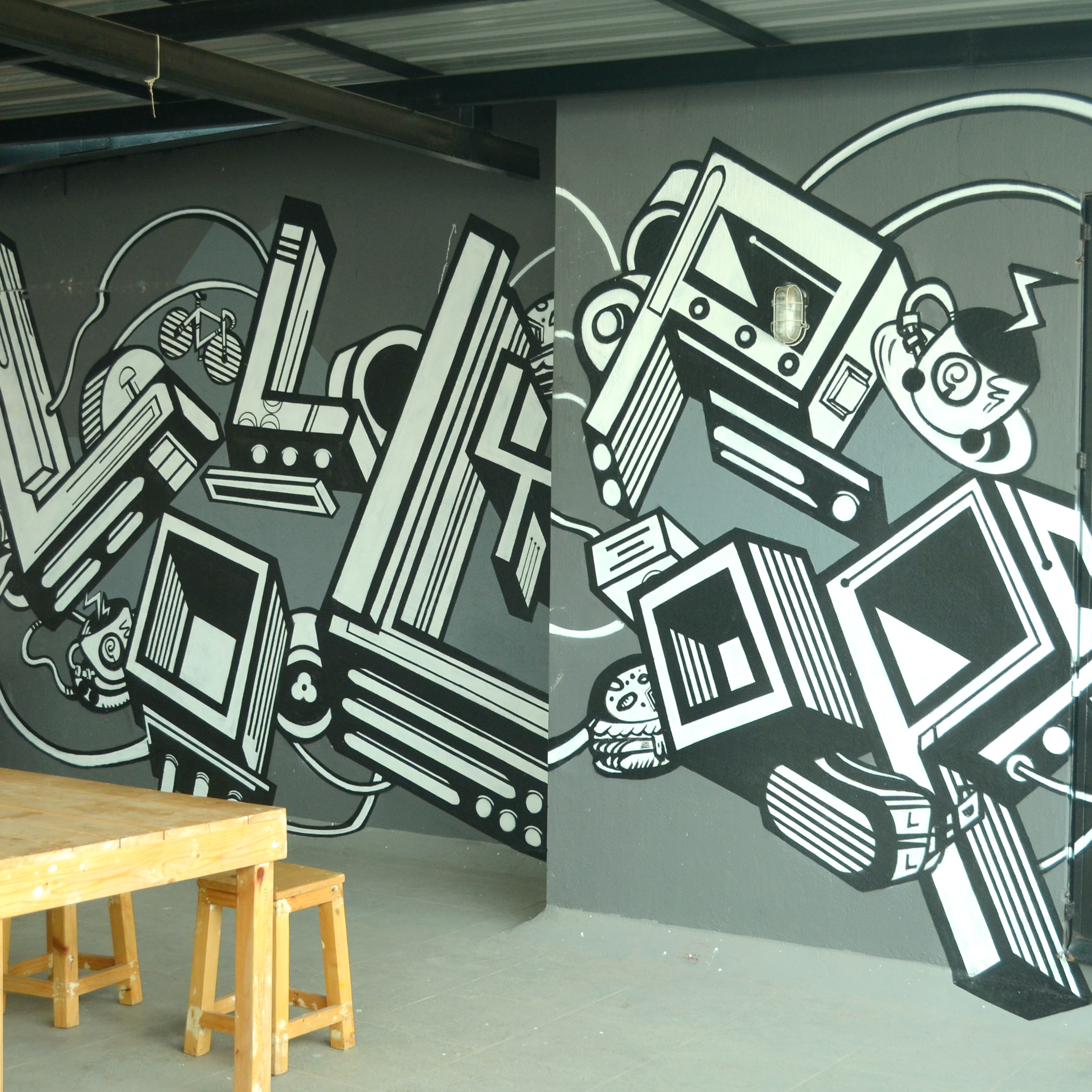 We have many fun events such as reading sessions, sports activities, team outings etc. In short, the management team makes sure that no individual works like a machine. They want to make such a work culture wherein with all these activities you can learn from each other. We want to build a happy place where everyone is a family and not merely a colleague.
Varun: What are the lessons learned from your setbacks and/or experiences in the course of your journey which has helped you evolve?
Mishq: Starting with just 3 members, in the beginning, was very challenging and on the journey, we had many setbacks such as irregular balance in work, sometimes there is a work overload whereas sometimes we faced idleness. There were times when clients were not happy with us, and there were times when we were not happy with the client. There were setbacks on daily basis but every roadblock that we have faced at every level, not only at management but at HR or Design level, we always learn from that and push ourselves ahead. That's how you grow.
Varun: What according to you makes you stand out from your competitors?
Sathish: India witnessed the inception of Lollypop due to one vision —
'Put India on a world map as a digital design destination'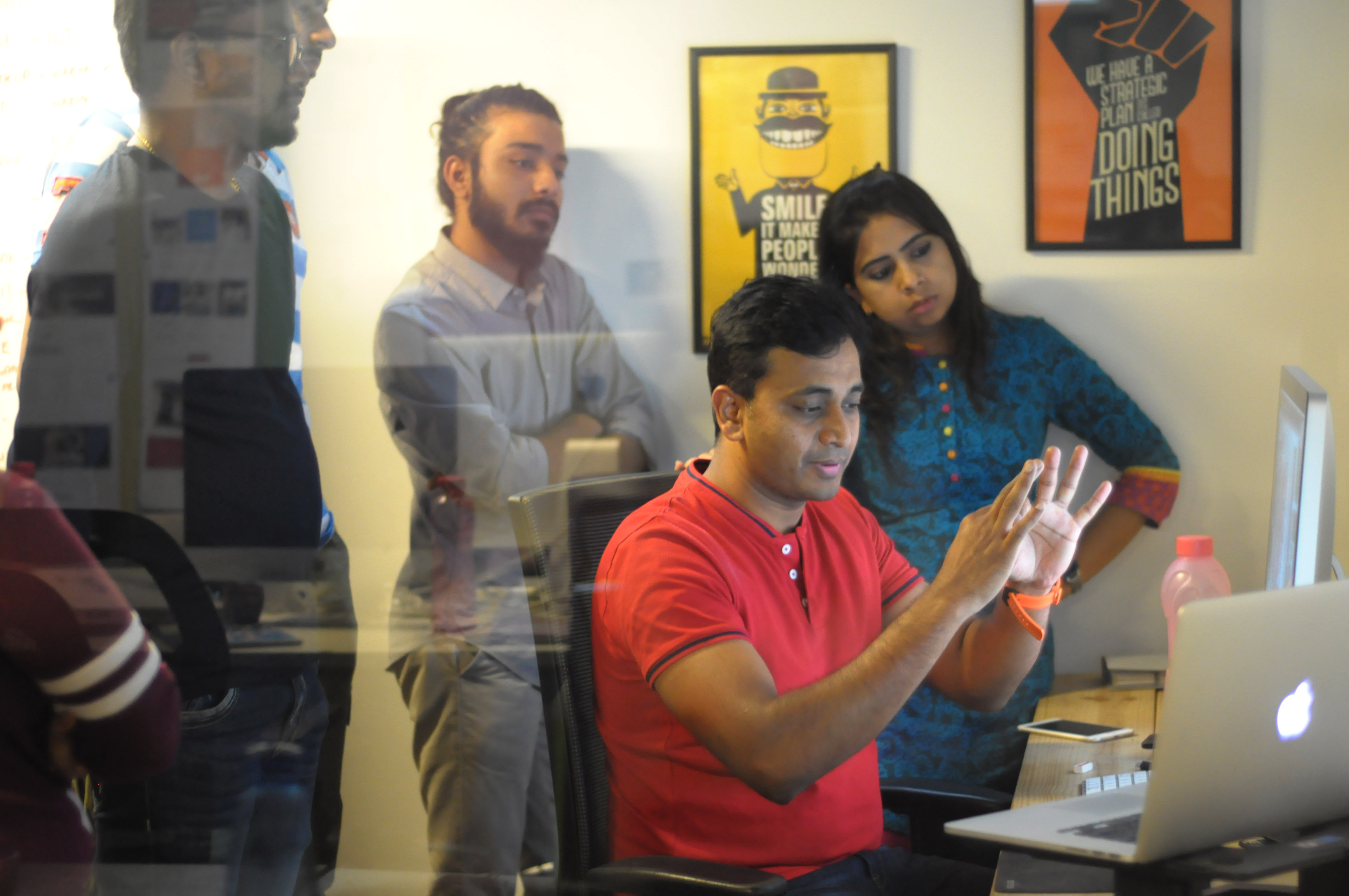 Indian IT sector has shown tremendous progress in backend side but that has not been done in designing. Thereby, we want to foster it by providing such environment and culture that inspires others to become a part of this world of solution providers, colors and patterns. This is why we have our tagline "We Craft Sweet Experience". I firmly believe that our quality of work coupled with our dedication makes us stand different in the crowd.
Varun: We request to provide few words of wisdom for the aspiring designers.
Kruti:
The ground rule in this world is to be passionate about what you are doing. What truly matters is how much you are willing to learn; self-learning is the fuel to achieve success.
Be knowledgeable not just only about design but also about technology. At Lollypop, we hire people by inspecting their talent, passion, and personality and not merely by their degree.
Furthermore, for designers, it is very important to improve their soft skills along with their sills set because being able to communicate your thought process and justifying it to the clients can make or break you.
Lollypop Life
Take a sneak pick at Lollypop Design Life.
Lollypop Life from Lollypop Design on Vimeo.
Iconscout likes to congratulate Lollypop Design Studio for getting listed under The top 50 most liked design teams in 2017 by Dribbble. We are grateful to Lollypop Design team for managing time for us in their busy schedule and answering our questions. It had been a great experience interacting with them. Do you guys have any questions? Do write them below in the comment!
---
Also published on Medium.