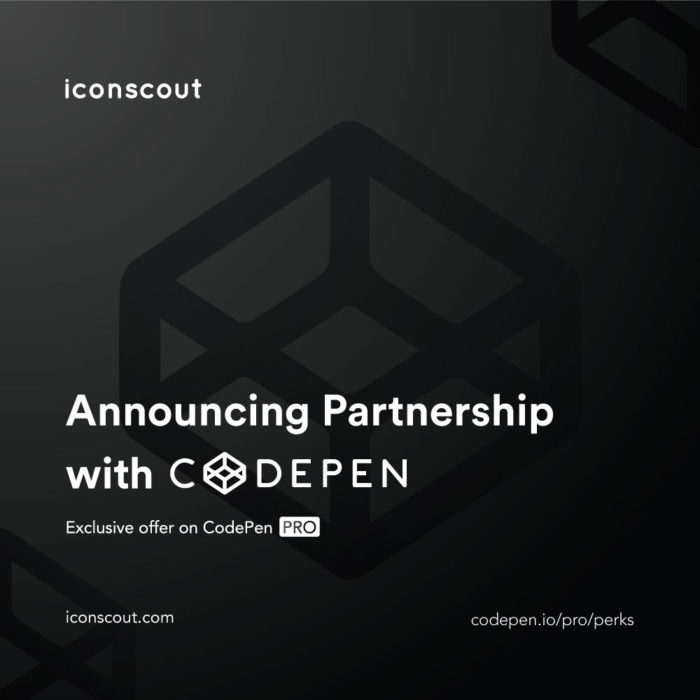 We are very happy to announce our partnership with CodePen to help people get thousands of icons at discounted price.
CodePen is an online community for testing and showcasing user-created HTML, CSS and JavaScript code snippets. It functions as an online code editor and open-source learning environment, where developers can create code snippets, creatively named "pens", and test them.
Iconscout is an online marketplace for designers and developers to get icons. Launched back in August 2016, Iconscout has more than 150,000+ icons. Iconscout has one of the fastest growing designer community with 127+ best icon designers from around the world.
Since the inception of designing era, Icon has become very vital part of any design. Though its been called smallest element of designing but still icon plays very important role in designing Website, Application, Games or any Graphic design.
This partnership will enable users of CodePen to easily select the icons from collection of 150,000+ icons for their work. These capabilities will be available only for CodePen Pro users.
How to activate the offer?
Signup for CodePen PRO. You'll be given unique Promo code using which you can activate special offer on Iconscout Pro Plans.
Read our guide on how to apply coupon code?
Happy Downloading! ?
Benefits of offer
You'll get deep discounts, up to 83% off, on Iconscout Masterscout Plan – unlimited icon downloads per month.
Original price of the Masterscout plan is $29.99 per month but using this offer pricing will be $4.99 for the 1st month, $9.99 the 2nd, and $14.99 the 3rd.
Access to 152,000+ premium vector icons.
Handpicked icons from the submitted icons by expert icon designers that makes a class Icon Library.
Every day hundreds of new icons are added, which help you choose from constantly changing library of vector icons.
Swim across 31 distinguished categories with 6 different icon styles.
Icon downloads available in multiple file types – .EPS,.AI,.SVG,.PNG (10 different sizes), .ICO and .ICNS.
We empower our users with the original vector source files like .AI,.EPS and .SVG, that suits the needs of project with no compromise in quality..
Easily hunt the icon you need from variety of categories with ease through our dynamic search and filters.
Thanks to a royalty free license, you can use any of these icons as many times as you'd like for both personal and commercial use without the need for giving any author credit.
---
Also published on Medium.