Having encountered various expected-unexpected meets with designers, we understand how much perplexing and baffling designing can be! Designing is anything but atomic. It can be further subdivided into categories including User Interface designing, UX designing, Icon/Illustration designing, Web designing, App designing and the list is endless. To create something fresh in any of these genre, designers ought to be in constant contact with many inspirational and motivating sources, the best source of which are design blogs.
Following our blogs on the available resources about infographics, emojis, color schemes and designing platforms, we have received a large number of requests from our readers asking for such above mentioned design inspirations. Hence, our team, after doing a detailed analysis of the available amenities, have come up with a collection of 17 best design related blogs and magazines.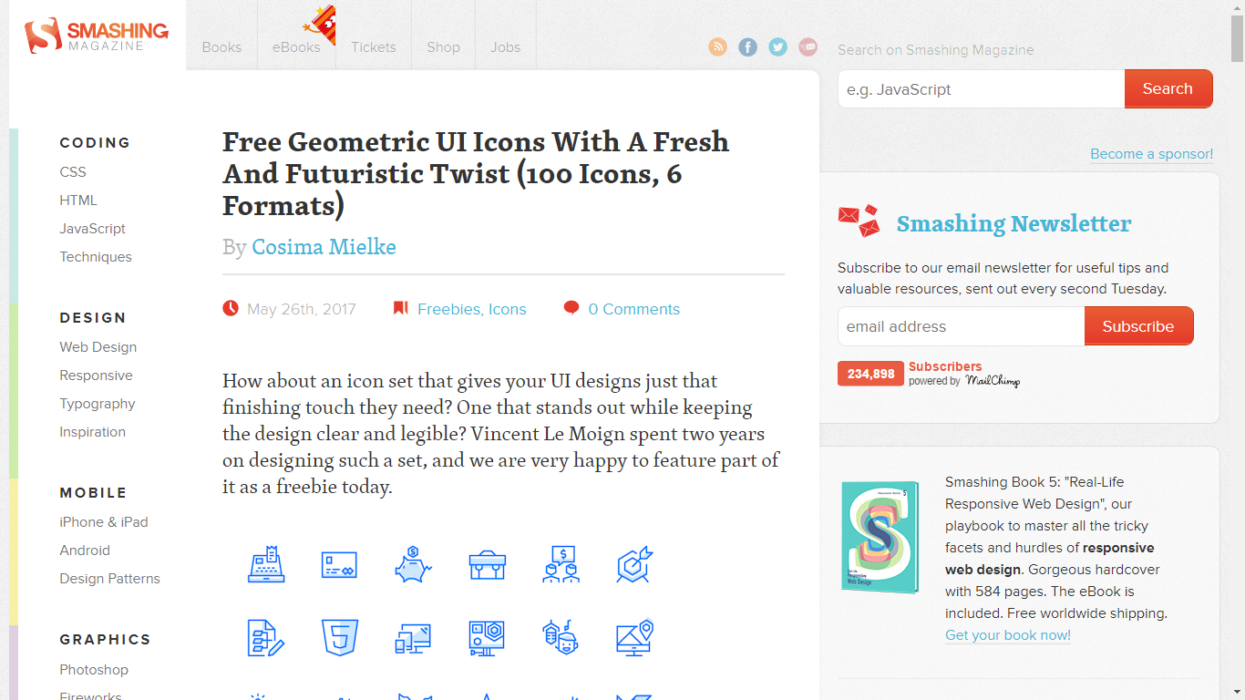 To accomplish its prime goal of keeping the designer community up-to-date with the latest trends in Web Development, Smashing Magazine was founded in September 2006. It is one of the well-known magazines among designers as well as developers for their continuous and fresh articles. This independent informative resource imparts knowledge in varied fields including coding, graphics, device independence, WordPress, UX design etc. Moreover, it also disseminates info about job posting, and design events and conferences. This creation by Vitaly Friedman and Sven Lennartz is well-known for offering freebies in graphic design section. Its social stats are as follow:
Alexa Rank: 5618
Subscribers: 234,898
Facebook Fans: 291,443
Twitter Followers: 1.02M
Google+ Followers: 32,701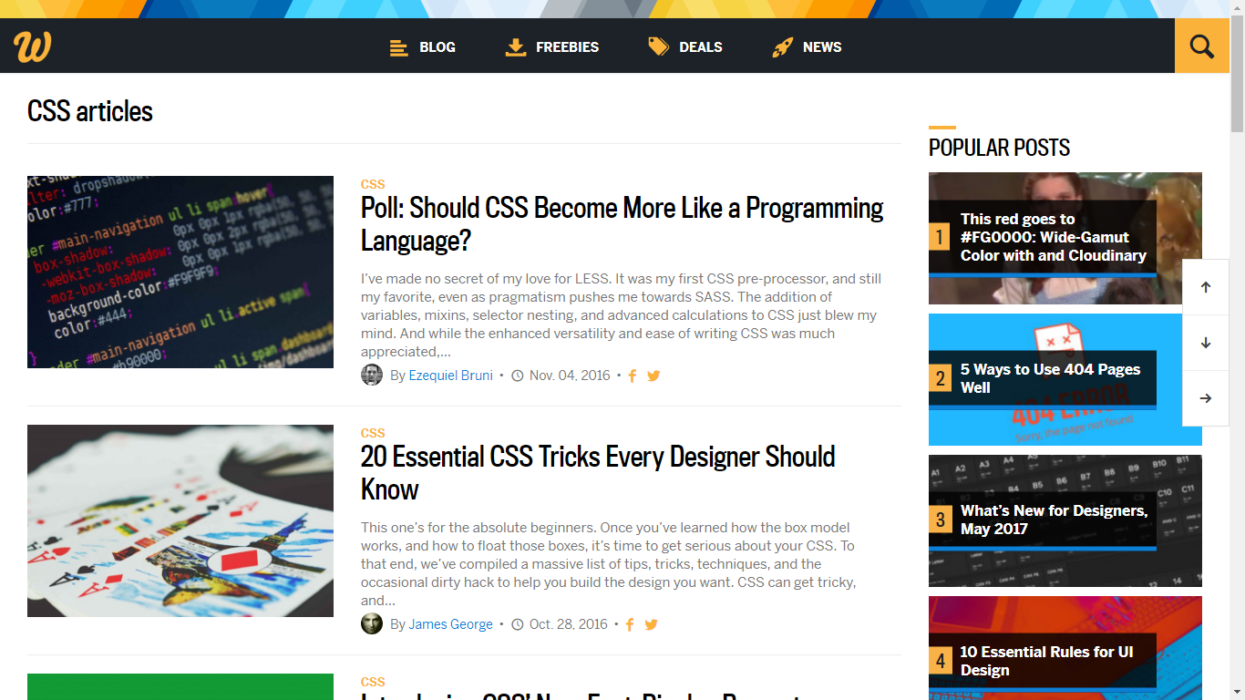 Walter Apai founded Webdesigner Depot in 2010 as design blogs. Since its commencement, it has meet the expectations of its readers in providing high-quality content in web designing. Additionally, it has a varied range of articles on designing technologies – jQuery, HTML5, CSS3, responsive design and typography. Along with articles, it is in possession of the biggest deal websites – MightyDeals.
Its popularity on the internet is as follows:
Alexa Rank: 12,737
Subscribers: 981, 540
Facebook Fans: 276,280
Twitter Followers: 739k
Google+ Followers: 2,920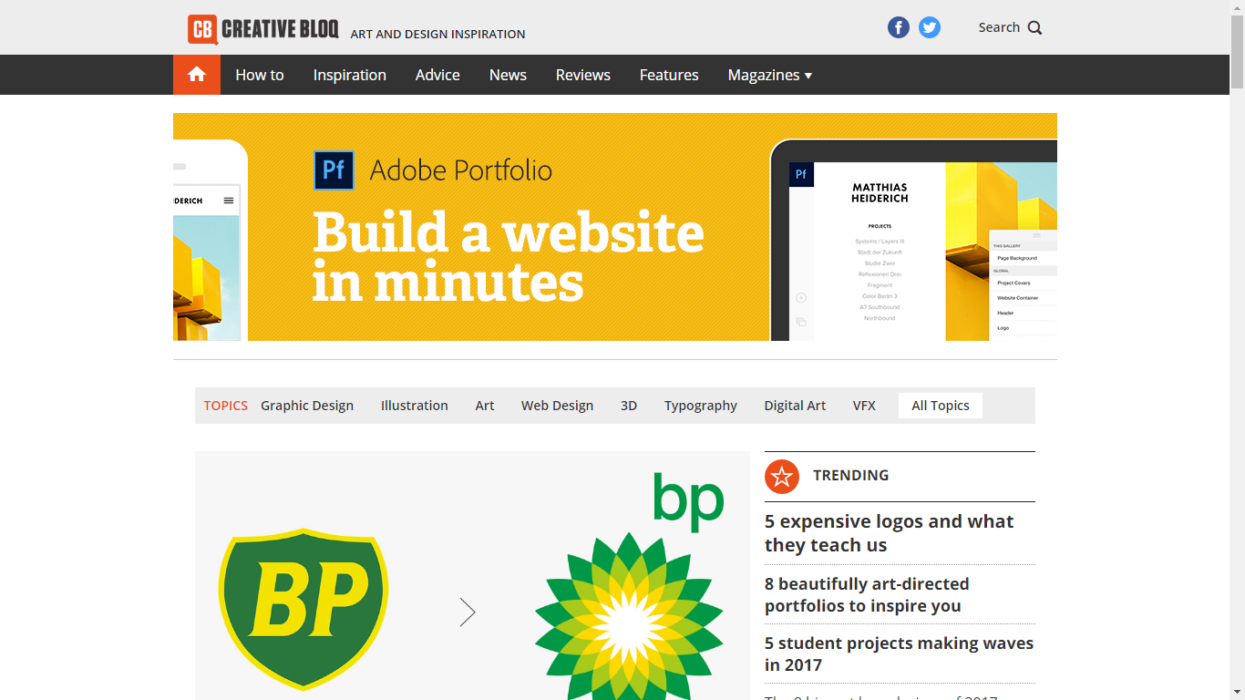 Creative Bloq has everything for everyone. It is one of the most heard about online destinations amidst digital and traditional artists, web designers, graphic designers, 3D and VFX artists, illustrators and more. Along with providing information about the latest designing trends, it answers most of the widely asked 'How Tos?'. It also has a dedicated section which works on triggering some inspiration amid its readers. It has been able to reach out to people effectively:
Alexa Rank: 3,465
Subscribers: 100,000+
Facebook Fans: 339,280
Twitter Followers: 182k
Google+ Followers: 5,753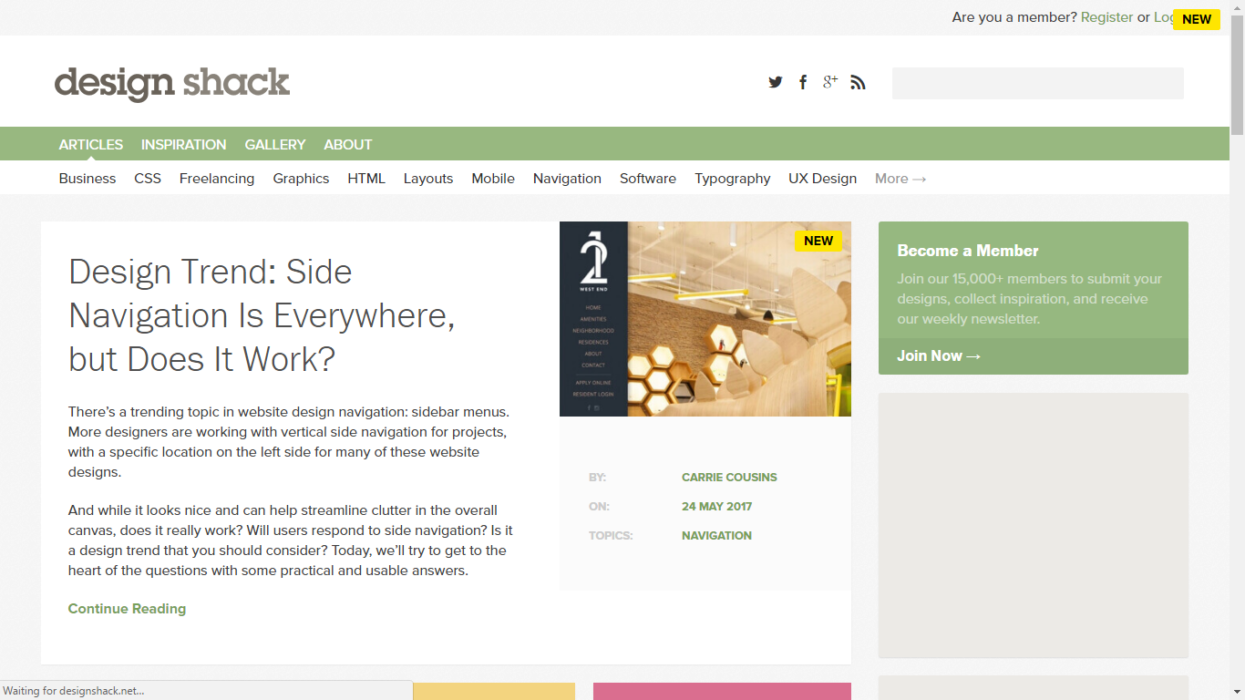 Design Shack has a blend of business-related articles and design orientated content. If you are into any of these two, this is definitely the landing place for you. It comprises of those contents which help one be proficient in web designs. It covers everything from CSS hacks to freelancing tips. Have a look at its internet virality:
Alexa Rank: 21,691
Subscribers: 15,000+
Facebook Fans: 52,110
Twitter Followers: 24.1k
Google+ Followers: 6144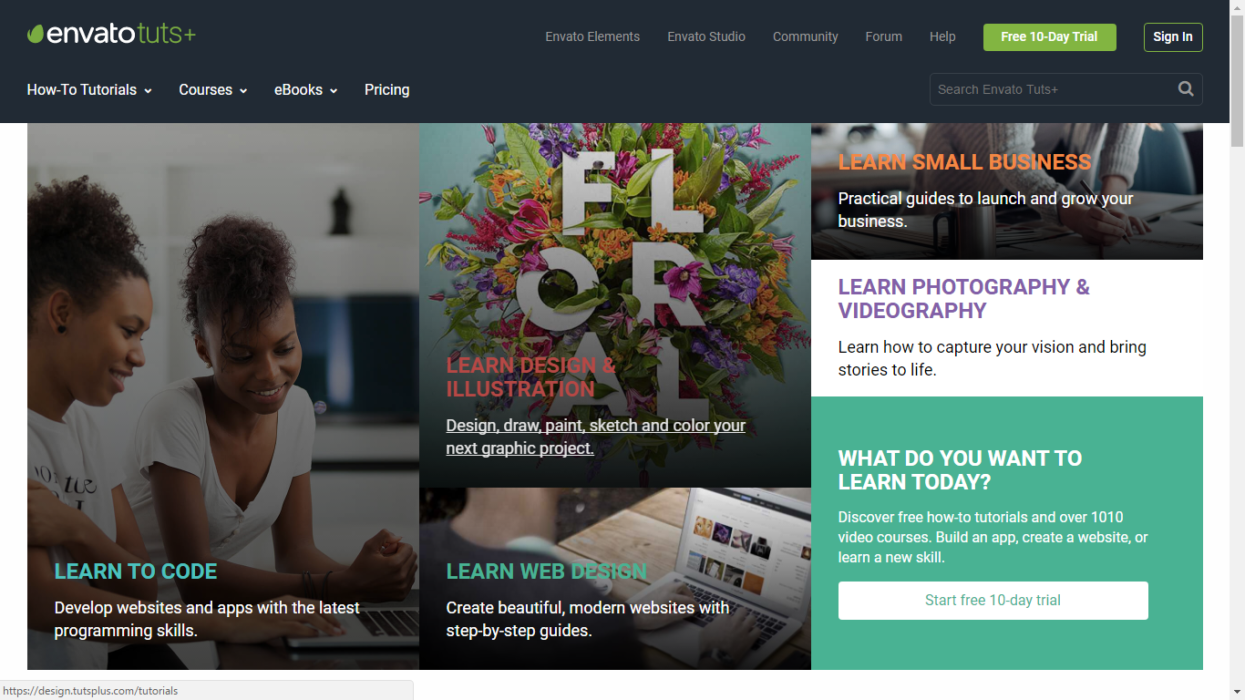 Following its mission of 'helping people learn and earn online', Envato Tuts+ has polished the creative skills of many designers. It has a provision wherein an individual is empowered to trade his creations and services with the real world. What makes it different from its fellow contenders is its unique approach of self-learning. It is the owner of 1000+ courses with 23,000+ tutorials which are available in 11,000+ translations. Its world of opportunities has made it a huge hit in the world of social networking.
Alexa Rank: 1675
Facebook Fans: 211,788
Twitter Followers: 116k
Google+ Followers: 9149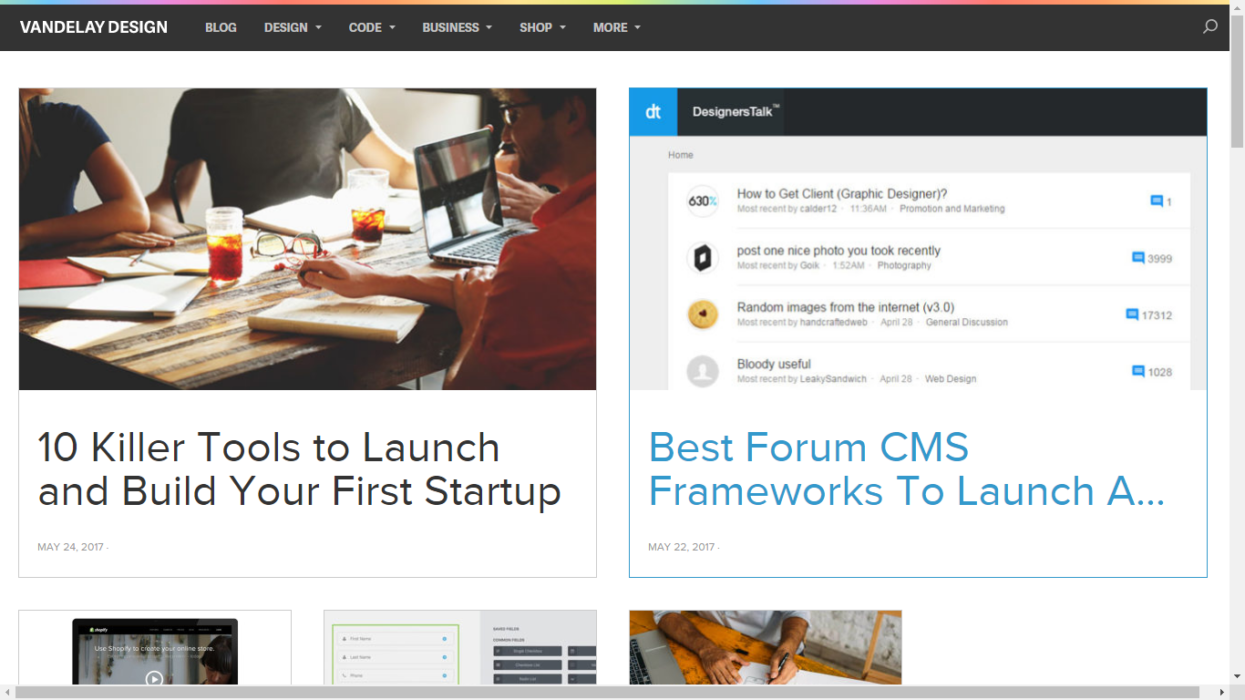 Blogs at Vandelay Design walks one through every phase a designer has to face. It includes topics related to designing creations, coding them and marketing them; along with providing a massive collection of auxiliary design graphics like icons, PSDs, vectors, brushes, responsive HTML templates etc. In order to equip the creative world, Vandelay Design covers latest design news and trends, while also supplying them with the inspirational stories. Along with occasional freebies, they provide available free WordPress themes on their site to download. Its social stats are as below:
Alexa Rank: 31,175
Facebook Fans: 62,020
Twitter Followers: 45.1k
Google+ Followers: 795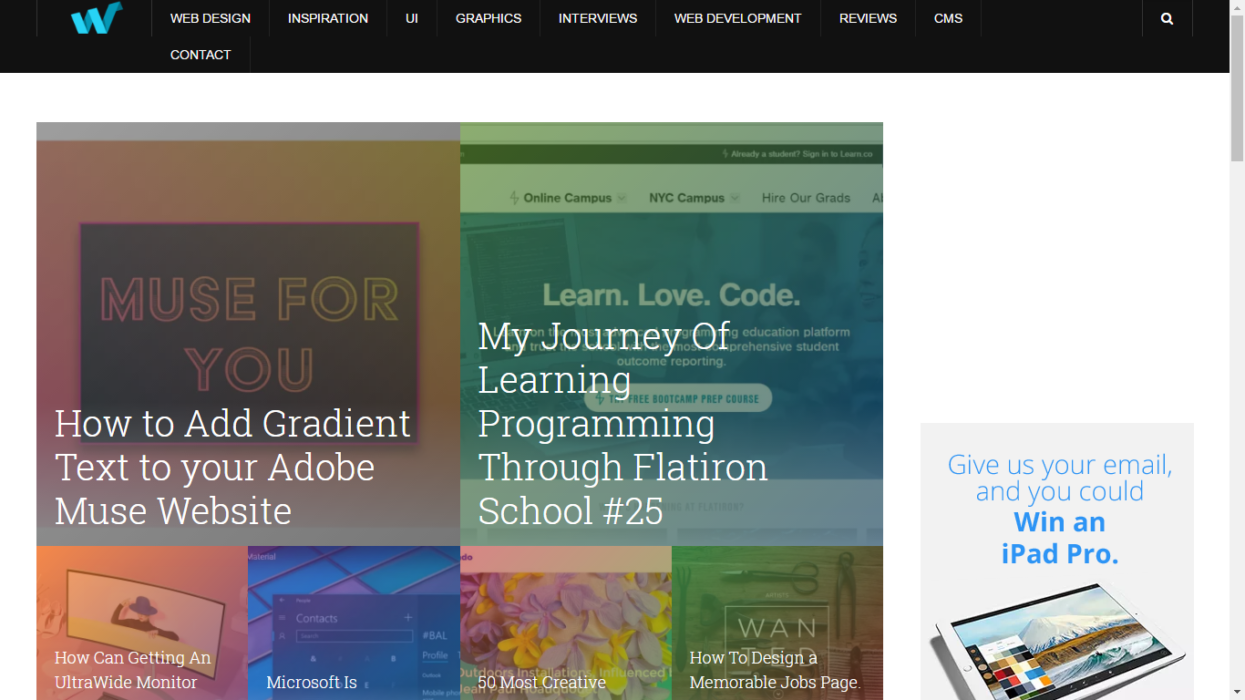 Like other resources, it also covers the subject of inspiration, new trends and technical information. The topics that makes it stand different from its competitors is its interviews with web developers and designers. Interesting section of this site is they are also the different design items like themes, hosting providers and monitors. This helps designers to find one stop resources for all their needs.
Alexa Rank: 42,538
Facebook Fans: 90,238
Twitter Followers: 180k
Google+ Followers: 795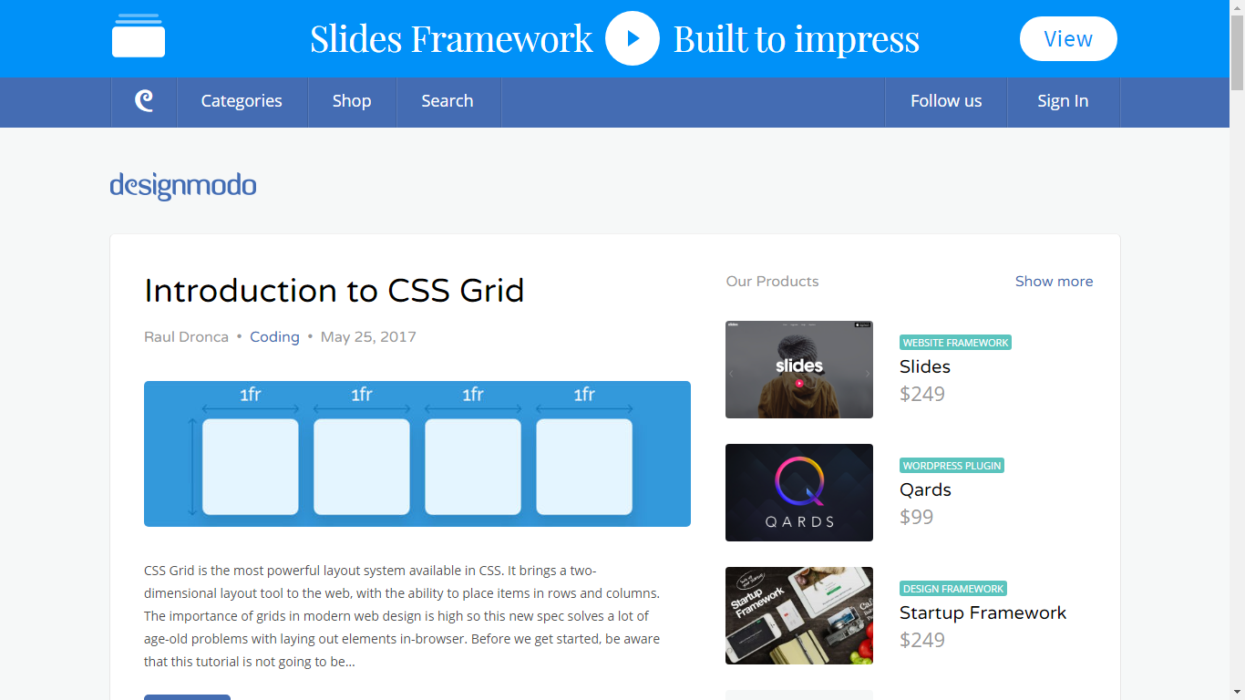 Another interesting web design related blog is Designmodo. Its blogs cover many tantalizing topics like responsive web design, app design, designing tips and tutorials, inspiration, WordPress, UX subjects and others. Along with getting technical information, one can also shop resources for website generator, WordPress plugin, Bootstrap Framework etc. This is how it's doing on social sites:
Alexa Rank: 16599
Subscribers: 150,000+
Facebook Fans: 124,173
Twitter Followers: 282k
Google+ Followers: 17,487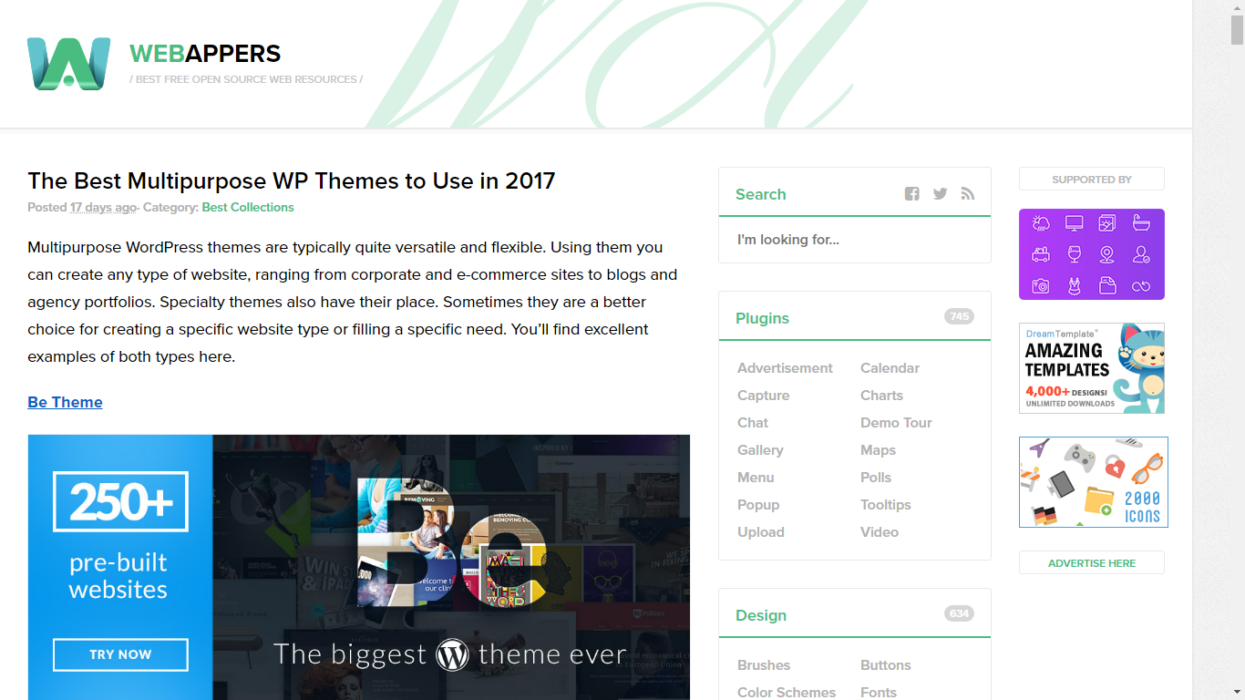 WebAppers is a blog dedicated to share top quality open source resources for web developer and web designer daily. As a web designer, you'll find some of the best free icons, stock photos, brushes, fonts and design inspirations. As a web developer, you'll also find some of the best Javascript and Ajax components like modal windows, menus, galleries, tooltips, charts, calendars plugins and a lot more…
Alexa Rank: 176,192
Facebook Fans: 8277
Twitter Followers: 5103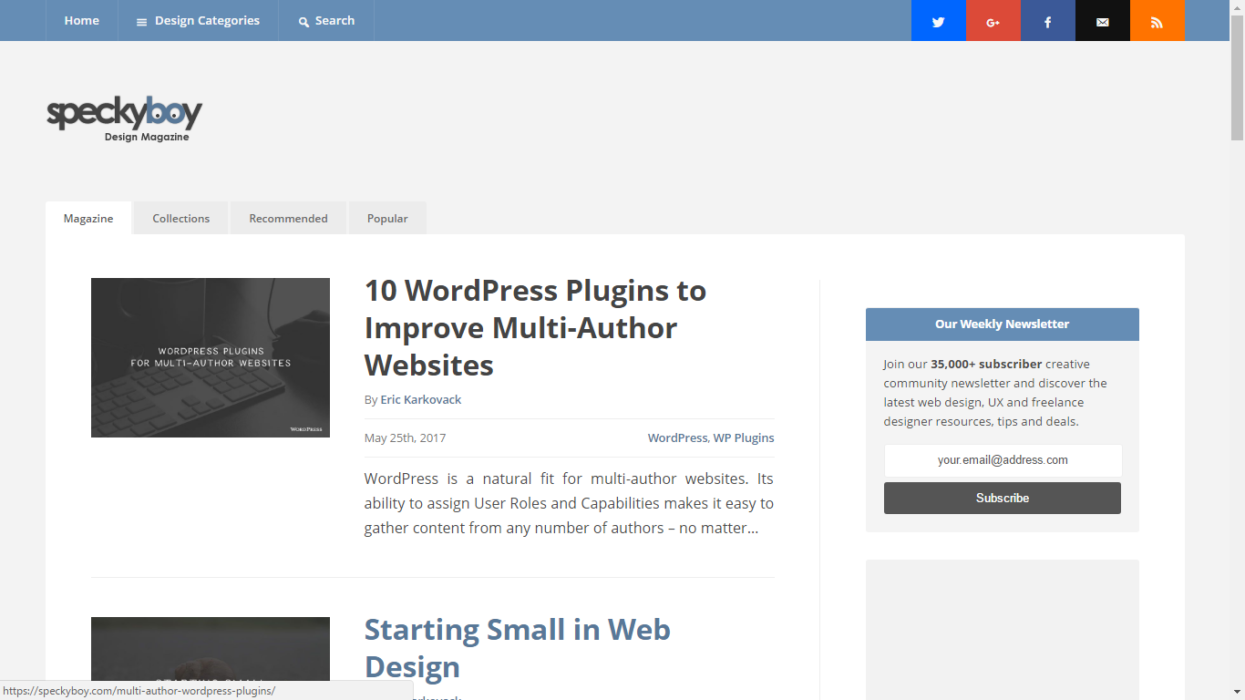 Almost a decade back, in October 2007,  a small inspirational site for web designers – Speckyboy was launched. With the course of time, it gradually evolved itself as a magazine for web design. A remote team of writers and editors from a small though elegant Scottish city – Inverness incessantly published insightful tutorials and tips, and time-saving techniques and resources. Topics addressed in their content are web and mobile app design, UX design, graphic design and sometimes Lego post.
Alexa Rank: 18,670
Subscribers: 35,000+
Facebook Fans: 54,295
Twitter Followers: 76.5k
Google+ Followers: 110,704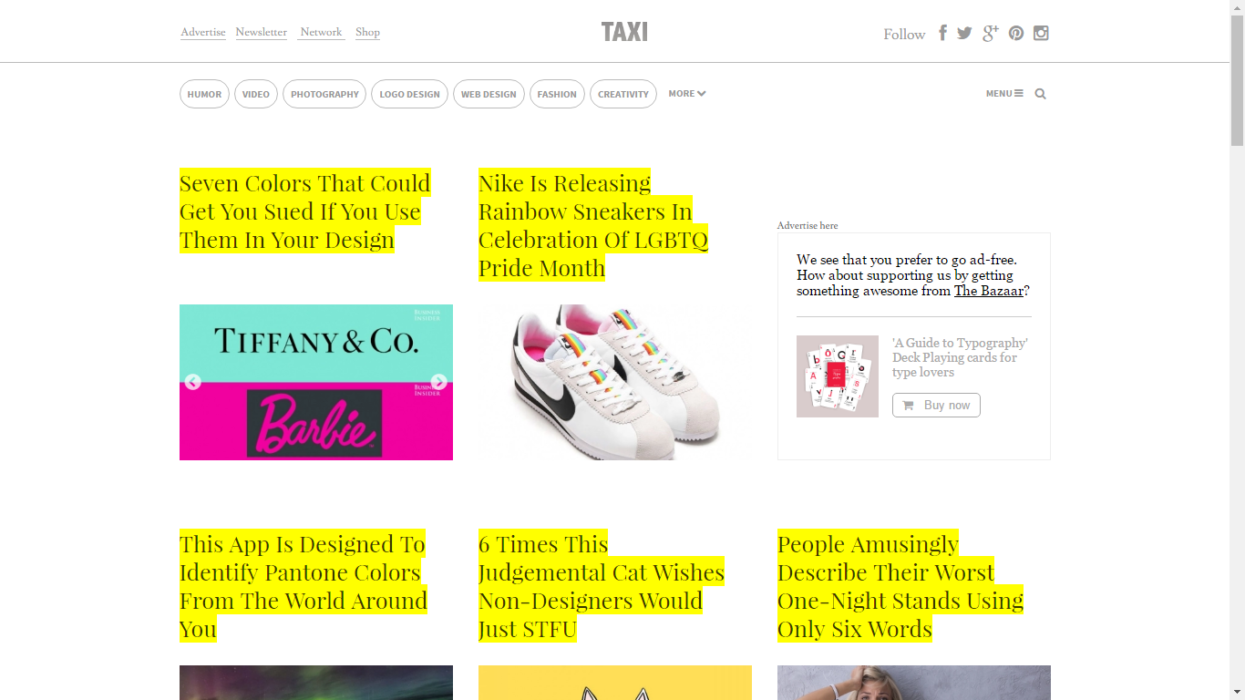 Design Taxi is a highly influential reference source for the creative world. It has proved to be an origin of motivation for numerous novice and expert designers. The daily updated content which reached millions of tech-savvy tastemakers and influencers, has found a position in prestigious leading publications like New York Times, Wall Street Journal and CNN.
Alexa Rank: 21,825
Facebook Fans: 516,057
Twitter Followers: 498k
Google+: 5,180,413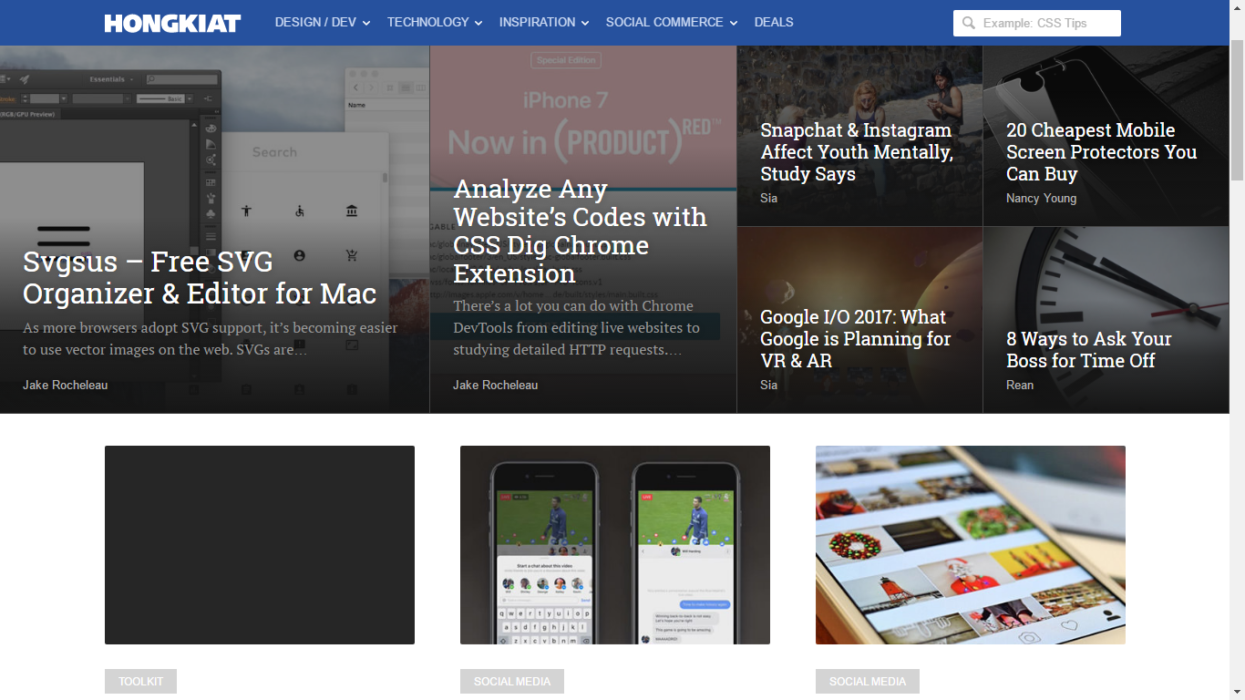 Founded in 2007, Hongkiat (HKDC) is one of the leading go-to sites for all things related to tech, design and technology. Their all-time-favorite subject to write for are powerful plugins, great gift ideas, cool tools, desktop and mobile apps, geeky gadgets and many more interesting things. They publish a minimum of  posts per week. Also, they regularly release tricks, tips, techniques, tool recommendations and many such resources useful for designers. It has all the required information necessary for web designers, bloggers, entrepreneurs, web developers and graphic designers.
Alexa Rank: 3981
Facebook Fans: 98,802
Twitter Followers: 41.2k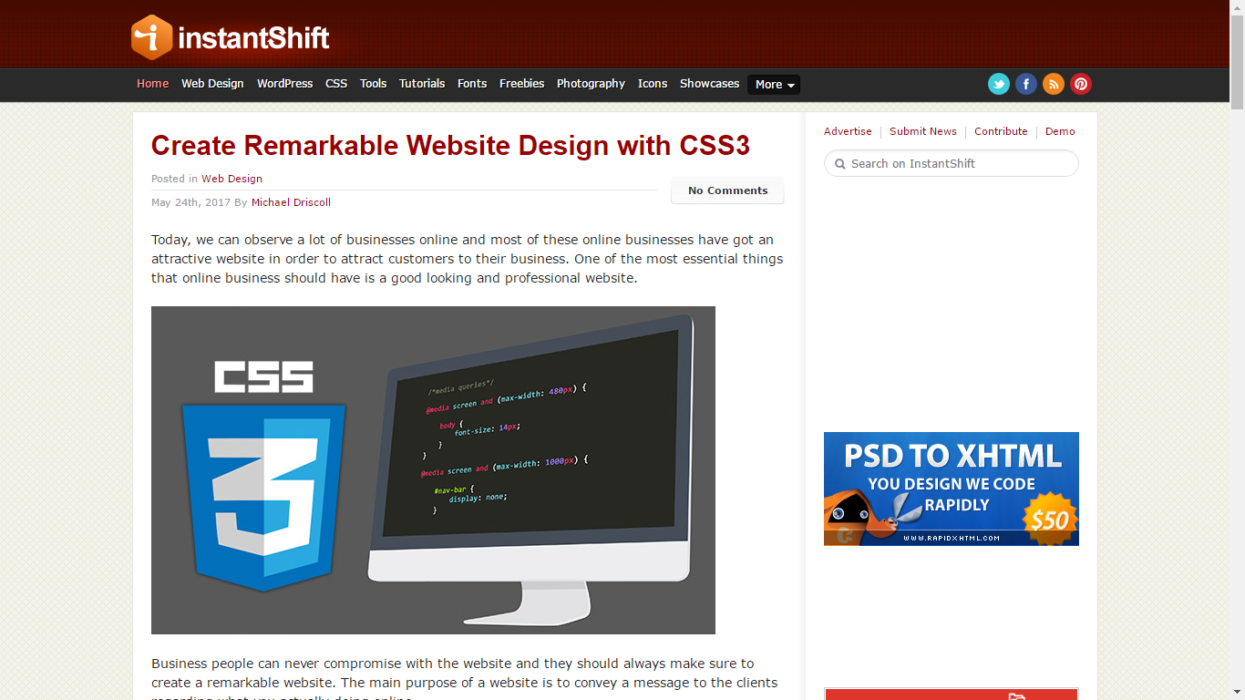 InstantShift was founded in August 2008 and it quickly became very popular because of its in- depth list articles on various web design topics.
Majority of InstantShift articles are from Guest authors. This will help their readers having perspective of industry leading people from all around the world. They're publishing only 15 high quality articles each month which crosses 700,000+ page views every month.
Alexa Rank: 67,951
Facebook Fans: 9328
Twitter Followers: 17.6k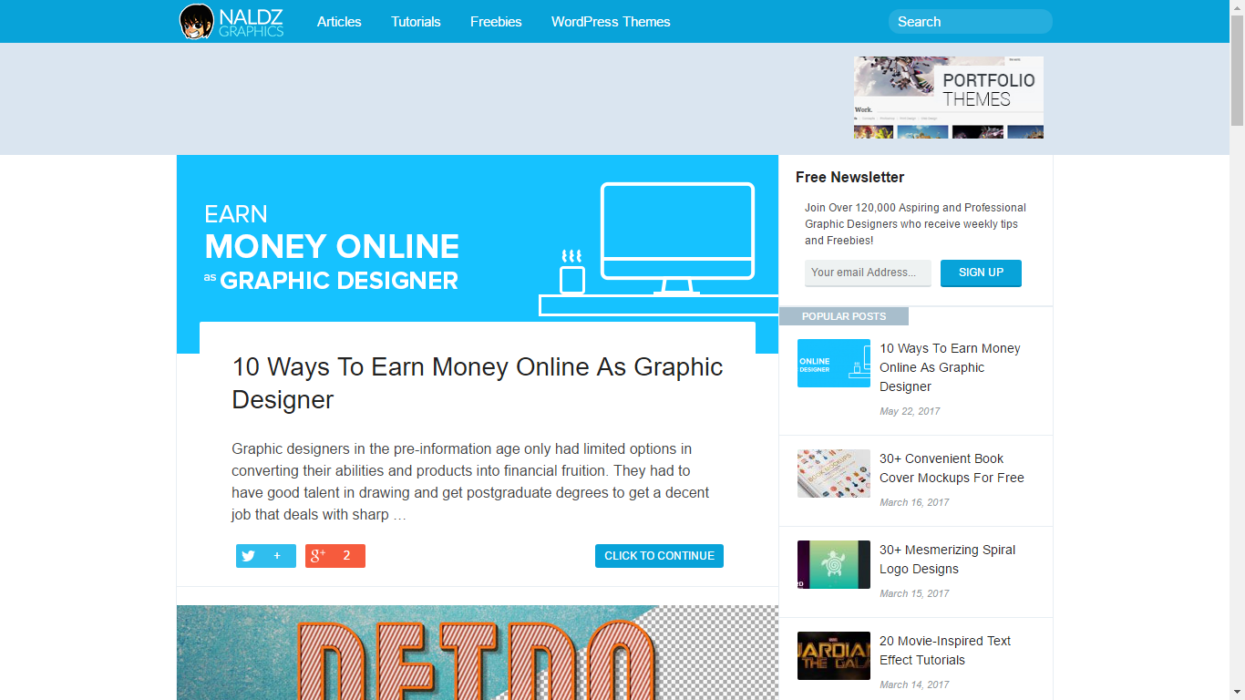 Founded in February 2008, Naldz Graphics has been known as one of the most trusted Design Blog on the web. Naldz consists of the best tutorials, freebies, inspirations and other useful and informative resources to help and give love to design community.
Alexa Rank: 47.5K
Email Subscribers: 19,000+
Facebook Fans: 36,590
Twitter Followers: 57.2k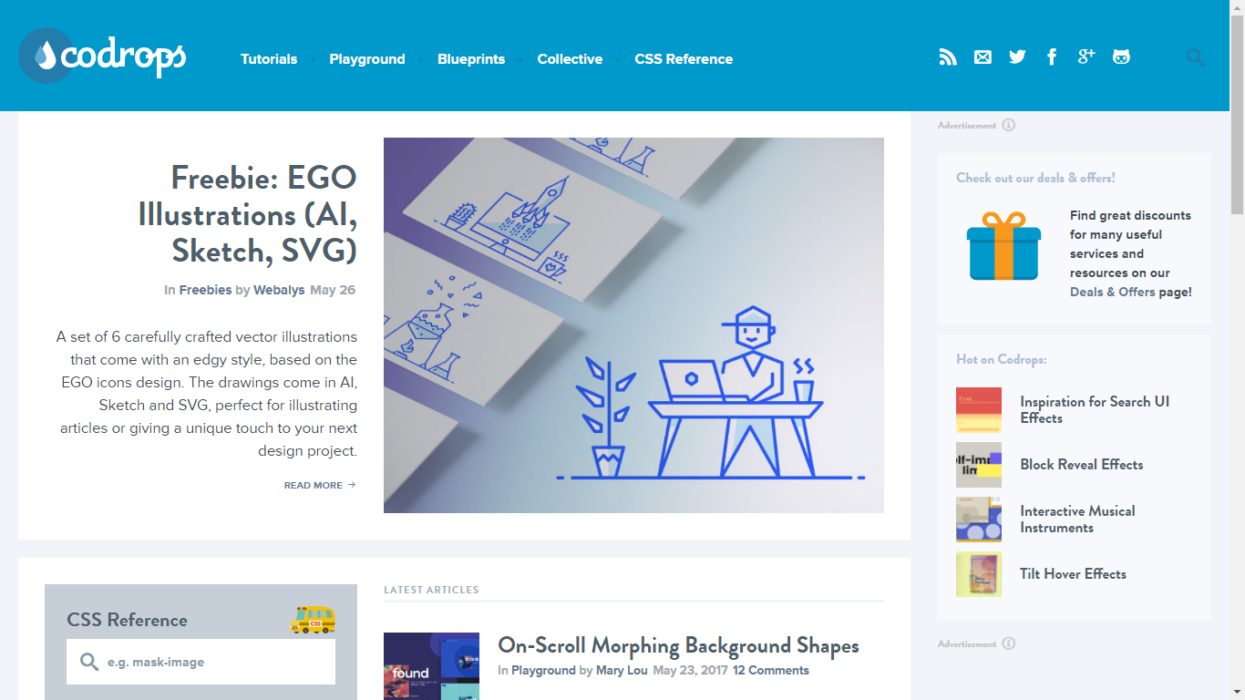 Codrops is a web design and development blog that publishes articles and tutorials about the latest web trends, techniques and new possibilities. The team of Codrops is dedicated to provide useful, inspiring and innovative content that is free of charge. What started as an experimental blog became an exciting playground for sharing the passion for web design and web development. The web is innovating each and every day, pushing the boundaries of how websites are built from the fundamental structure to the most delicate interaction effects.
Alexa Rank: 5400
Facebook Fans: 90,561 fans
Twitter Followers: 171k Followers
Google+: 12,603 followers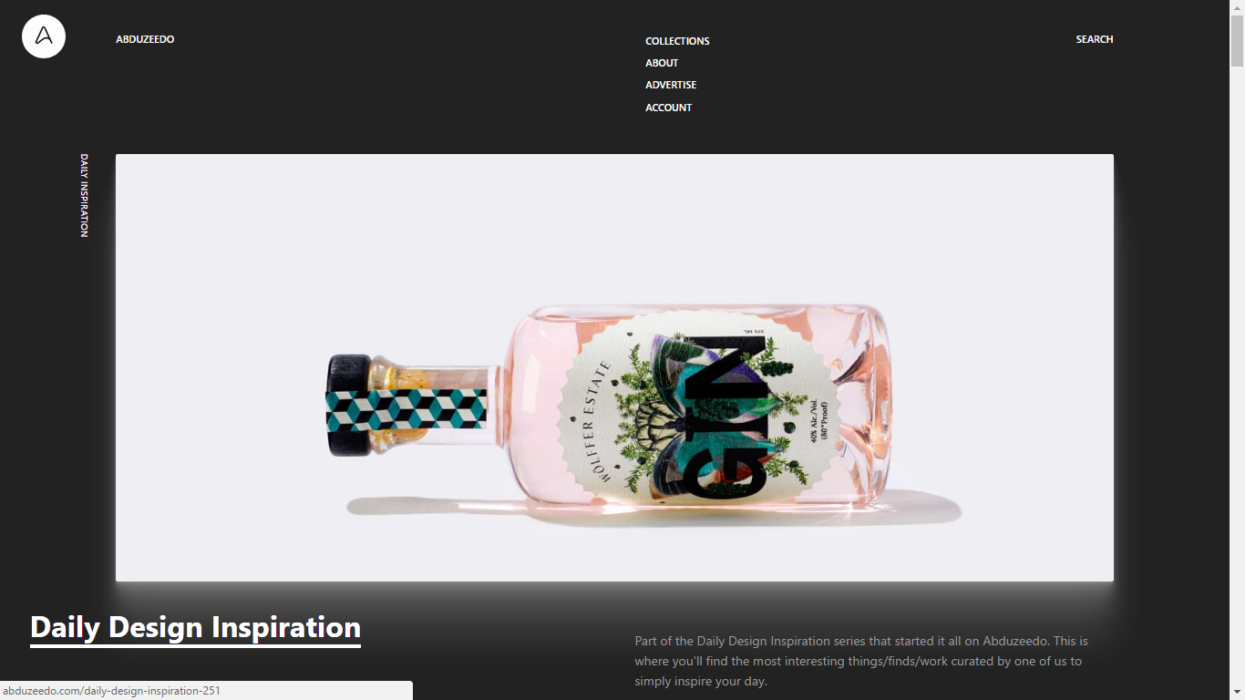 Colloquially called ABDZ, Abduzeedo is a collective of individual writers sharing articles about architecture, design, photography and UX. Founded in 2006 by Fabio Sasso, it was initially a personal blog. With time, it has taken the shape of a fully functional digital publication with several writers from all over the world. From different styles to mediums, ABDZ has evolved with the industry and became one of the most sought after design blogs on the web. Though original from scratch, the irony is this Portuguese name means abducted :p
Alexa Rank: 15,371
Facebook Fans: 263,746
Twitter Followers: 171k
Google+: 52,695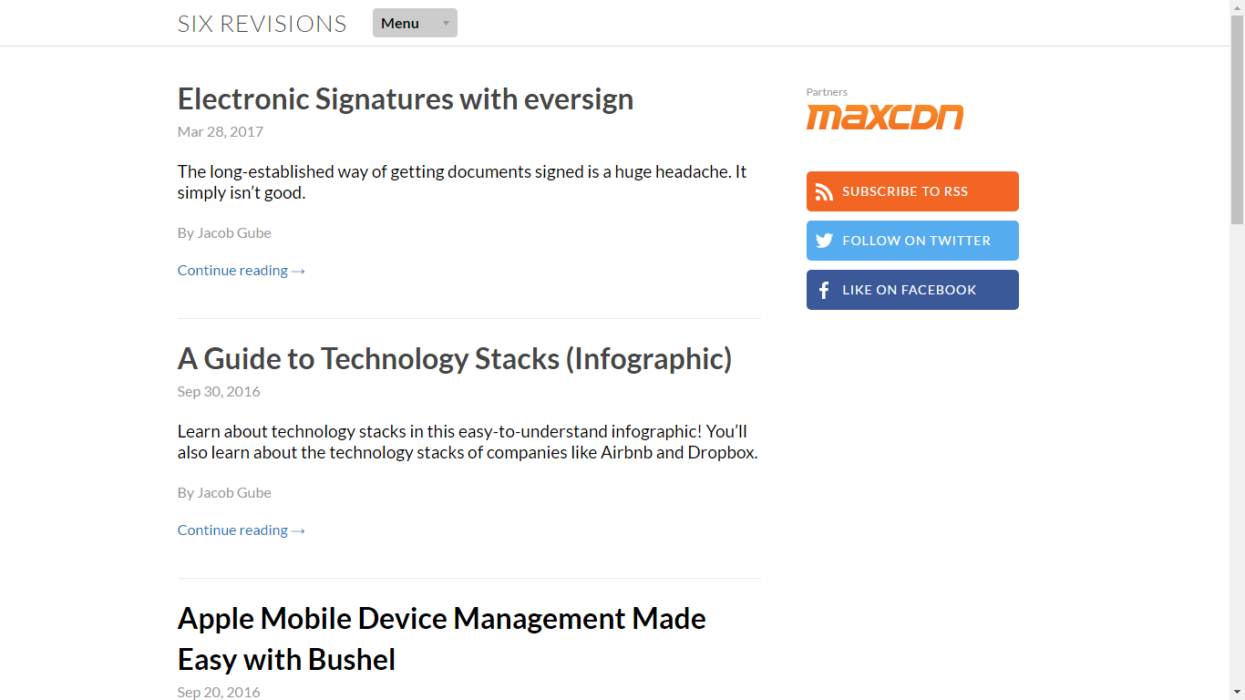 Six Revisions is a web publication for web developers and web designers. It publishes articles, guides, tutorials, news and other forms of content for people who design and build sites and apps. Six Revisions was launched in 2008 by Jacob Gube.
Alexa Rank: 49,423
Facebook Fans: 10,508 fans
Twitter Followers: 97387 Followers
Which design blogs do you refer?
We hope that we have provided our minor contribution in your designing dream.
Liked the article? Don't forget to share it with your friends! In order to stay tuned with us, do not miss to subscribe our blog. And yes… do comment in the box below about your most favorite resource.
---
Also published on Medium.